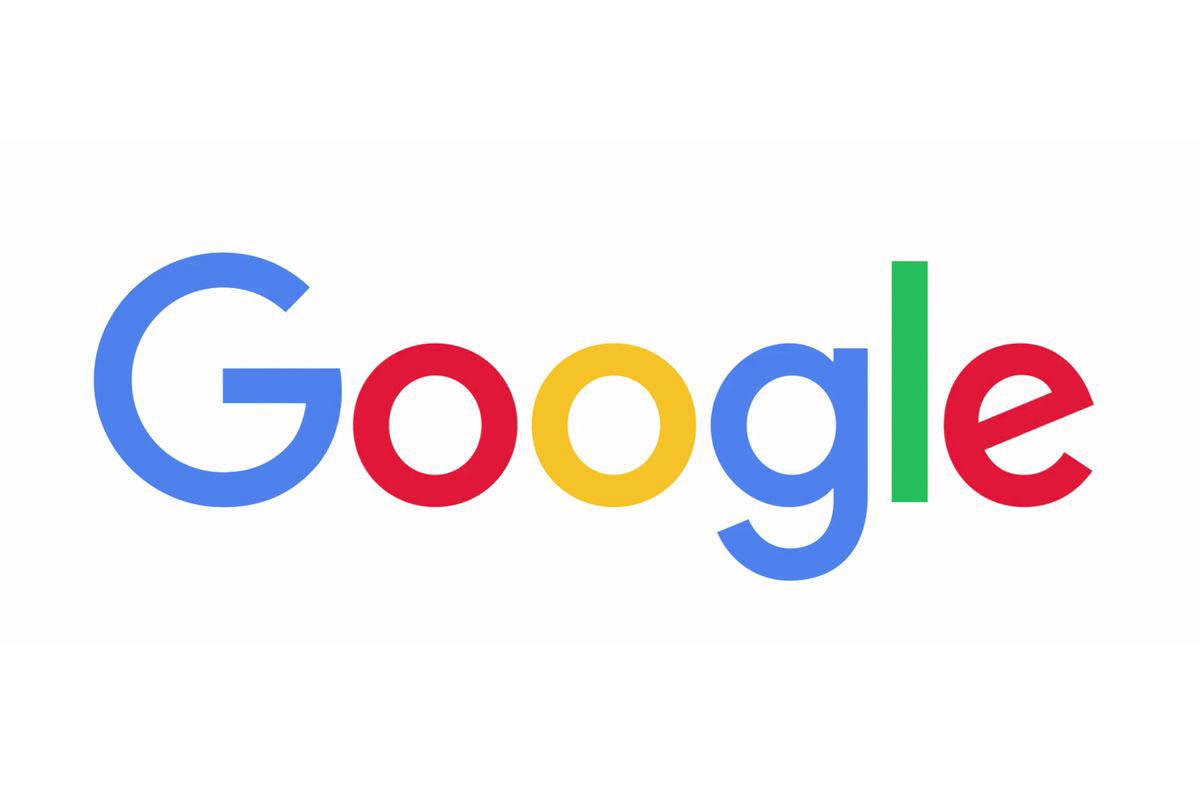 Market Watch brings the best of online retail to brick-and-mortar by providing a powerful platform to deliver information and mobile apps to workers in the stores. It's an exception-based alerting system that identifies issues with metrics in stores in real-time, provides insights into what caused the problem. Based on historical data, it identifies repeatedly accrued trends. The proactive alerting system and built-in data intelligence keep customers informed and armed to act.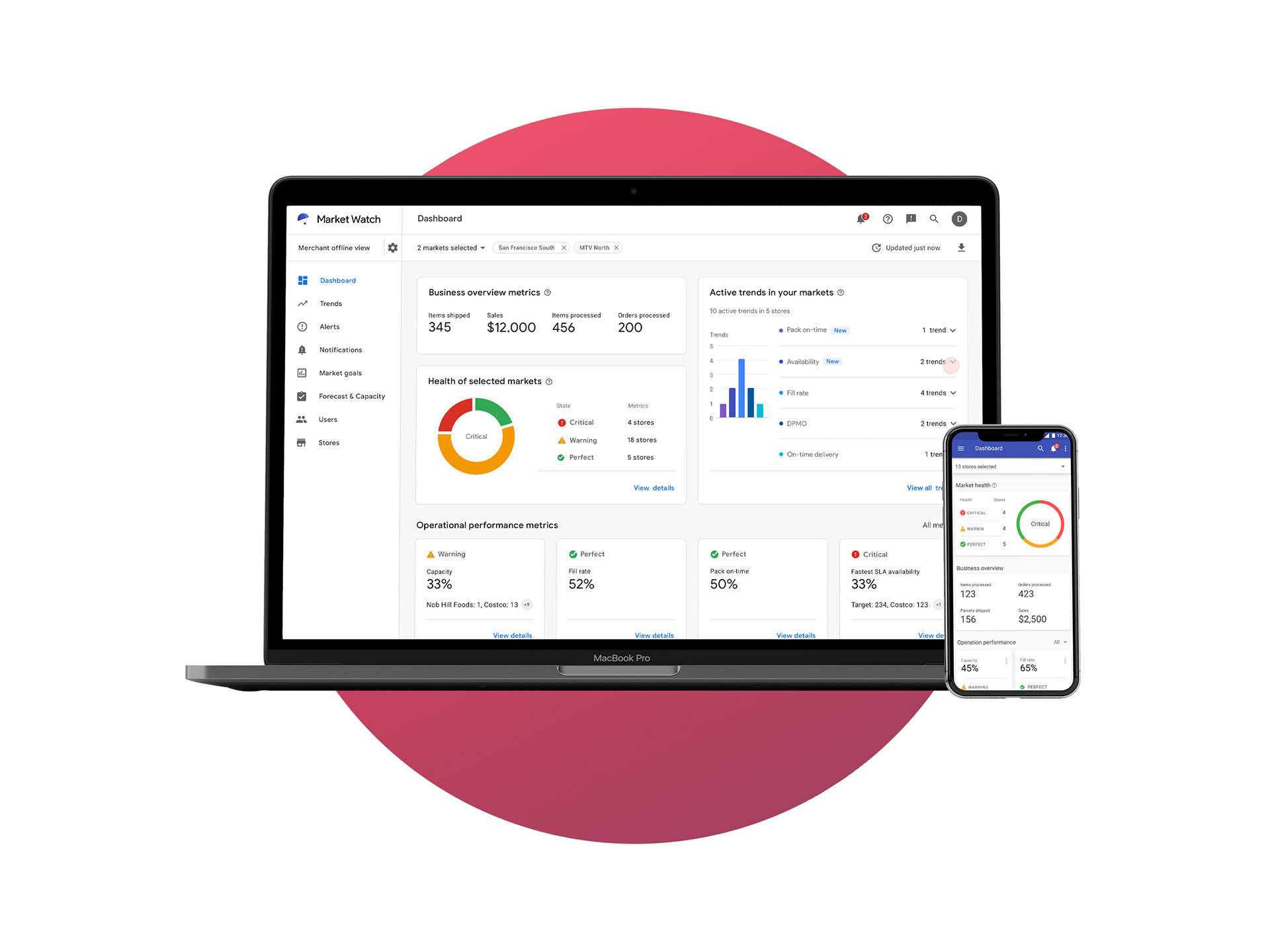 My Role
I joined Google team when the project was in the early ideation stage. I was the only designer on this project owning end to end design process. I worked with stakeholders, developers and research in developing project plans and feature prioritization. Delivered design layouts and sketches according to the company Material design system. Worked on defining personas profile. Together with PM, we have developed user stories and journeys and defined success metrics. Developed interactive prototypes and in collaboration with research conducted a concept evaluation and usability testings. 
Sketch • InVision • Axure RP • Flinto
Create a solution that enables a Store Manager to
manage dozens of stores remotely
by diagnosing operational problems independently, with little to no friction (e.g., having to switch tools continually or manually identifying issues in markets). 
Create transparency
, inspire store associates to reach their quarterly goals, and engage more customers through performance tracking and management. Dashboard, along with the alerting system, shows store associates how they stack up against their peers and personal goals.
In developing personas, I followed
IDEO's Human-Centered Design and Lean UX Design Thinking
to ensure that feedback from user studies supports my design decisions. There are two primary users: folks running operations in stores and managers who oversee dozens of stores. There are two leading roles:
Ops Director
(Fulfillment Lead) and
District Manager
(Market Manager).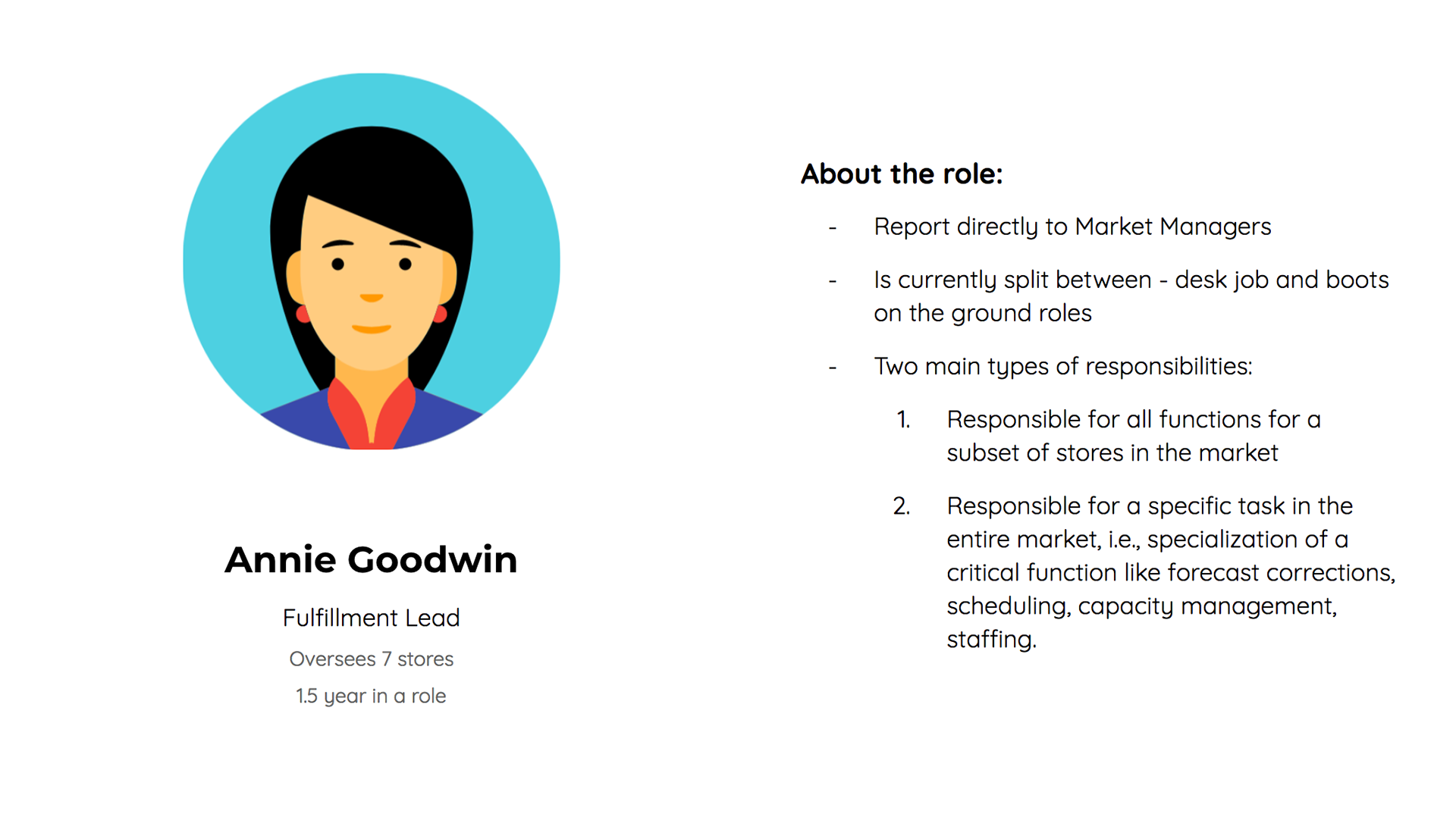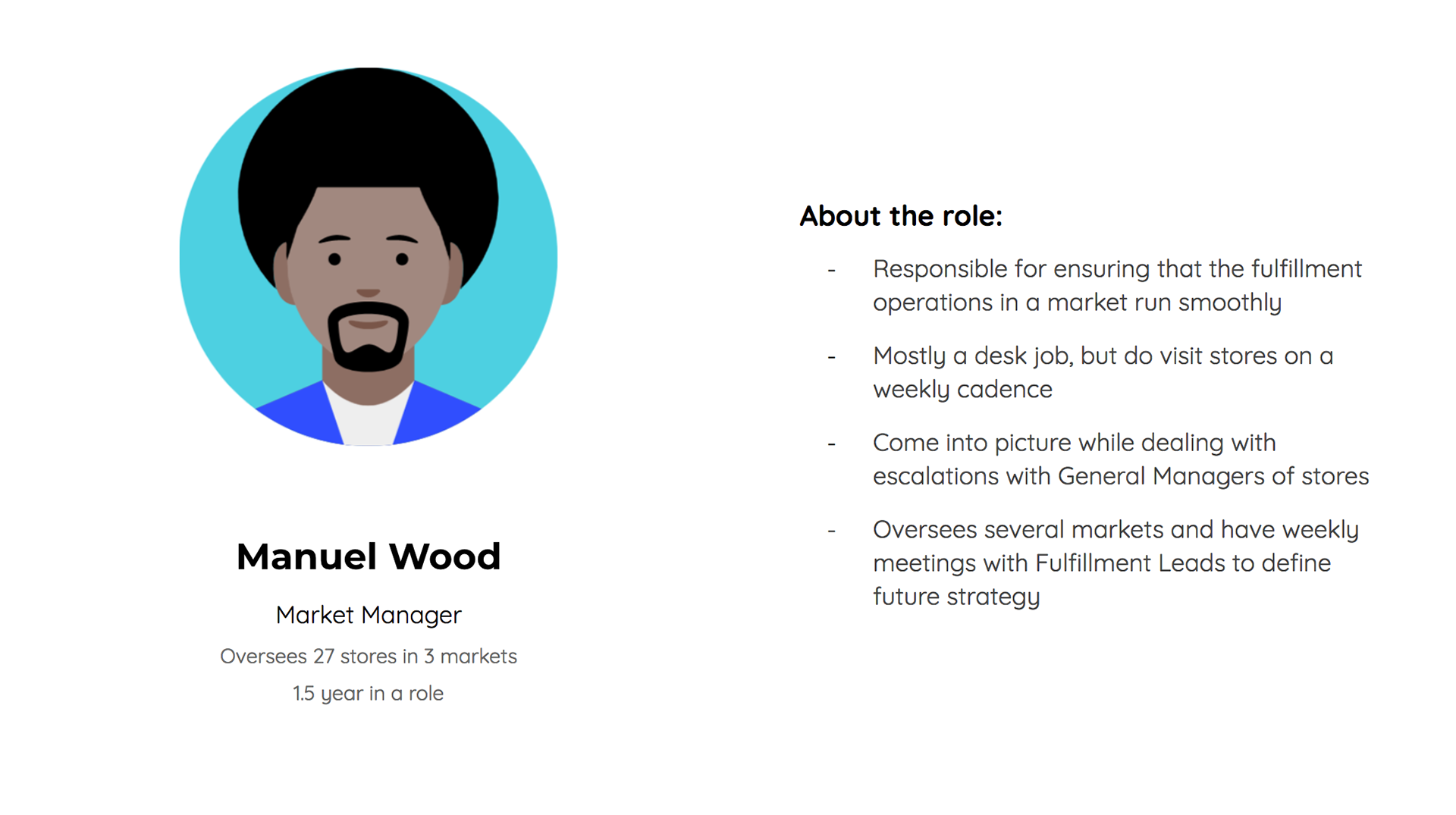 Goal:
understand how users use existing tools to manage across stores and markets.
How do they handle and troubleshoot the issues at scale? 
Uncover pain points users are facing in a day-to-day workflow. Uncover usability issues in current tools. What works and what doesn't? Get input on how we can build a tool to help better manage across stores and orders.
Method: 
With guidance from the research team, I conducted in total
16 interview sessions
. All sessions were remote and
60-90 mins each
. Sessions were recorded via Quicktime. While interviewing participants - two viewpoints were explored: the one of the
Ops Director
(7 participants) and the one of a
District Manager
(9 participants). For the accuracy of findings - employees of stores of a different scale were interviewed. 
The recordings were jotted down to each user's pain point into a Post-It. Then, by using affinity mapping method, I grouped the pain points into similar categories.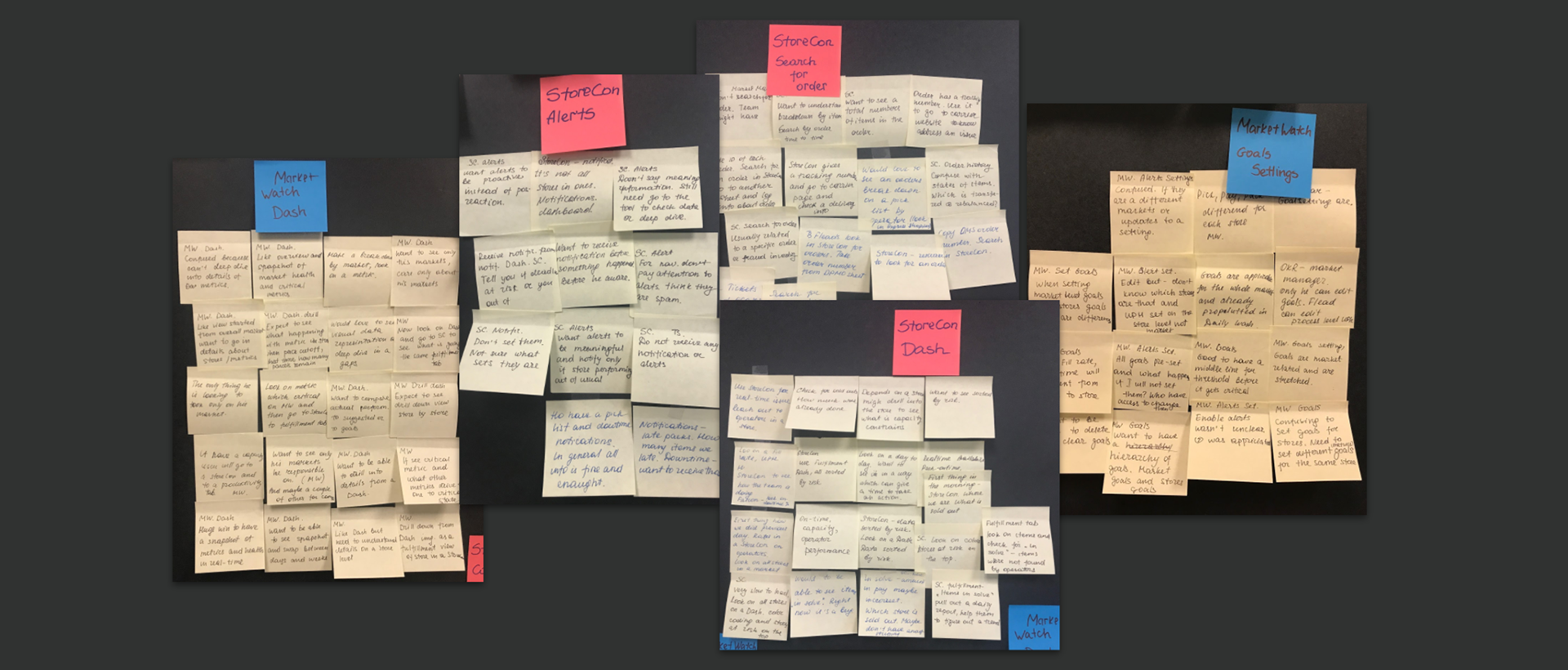 • Users have no
visibility into real-time in-store operations
. 
• No way
proactively predict issue
and take action to improve the market performance.
• The very manual and
time-consuming process
of managing orders.
•
Too many tools
(to understand the store's health, users need to switch between several tools).
• Dead-ends in a data flow and user flows;
•
Too many sheets
. Due to the lack of a single unification tool that will have all the essential data in one place, users had to adapt to the spreadsheets; 
• No union tool which could fit all reporting needs. Reporting is very
manual
and
time-consuming
.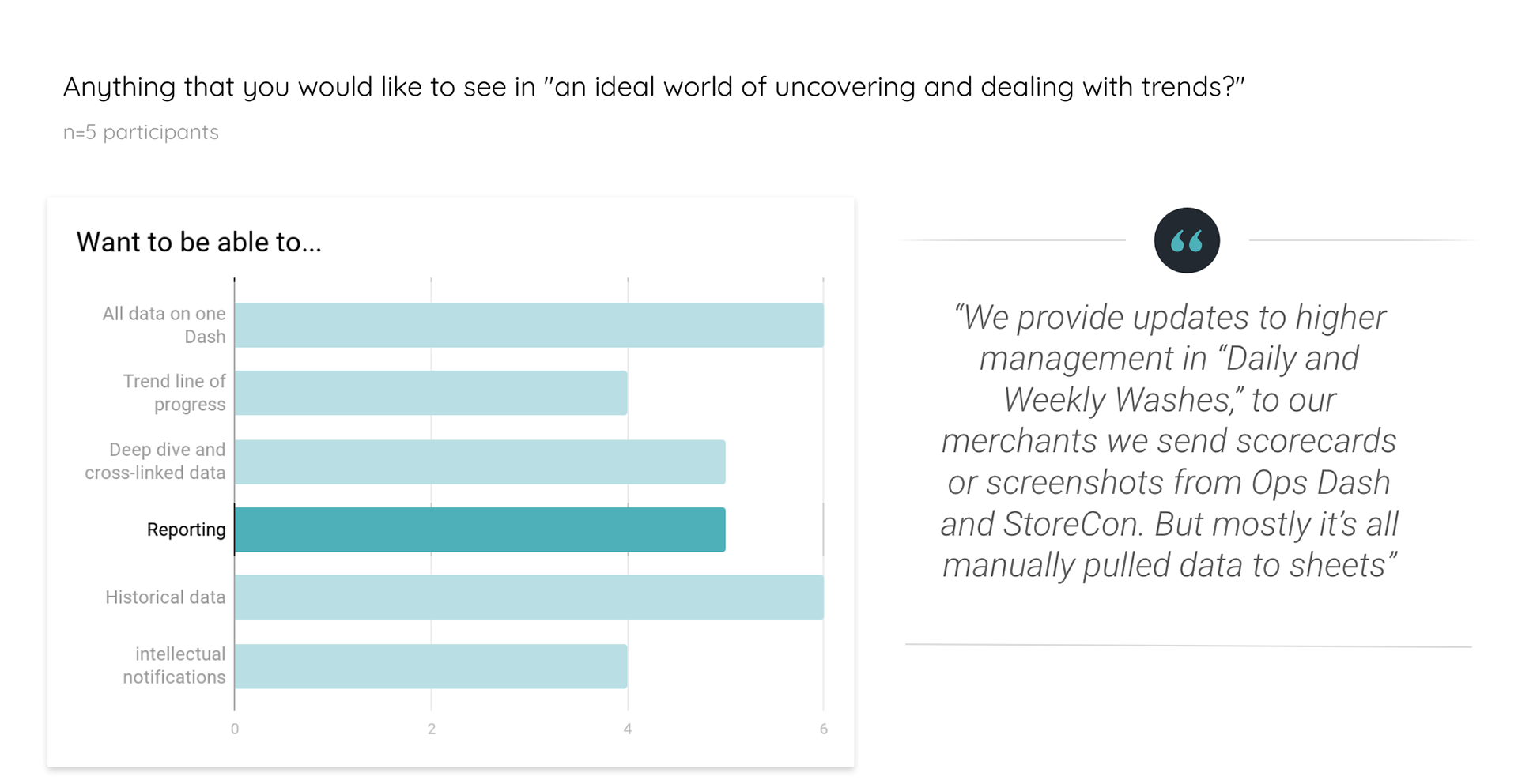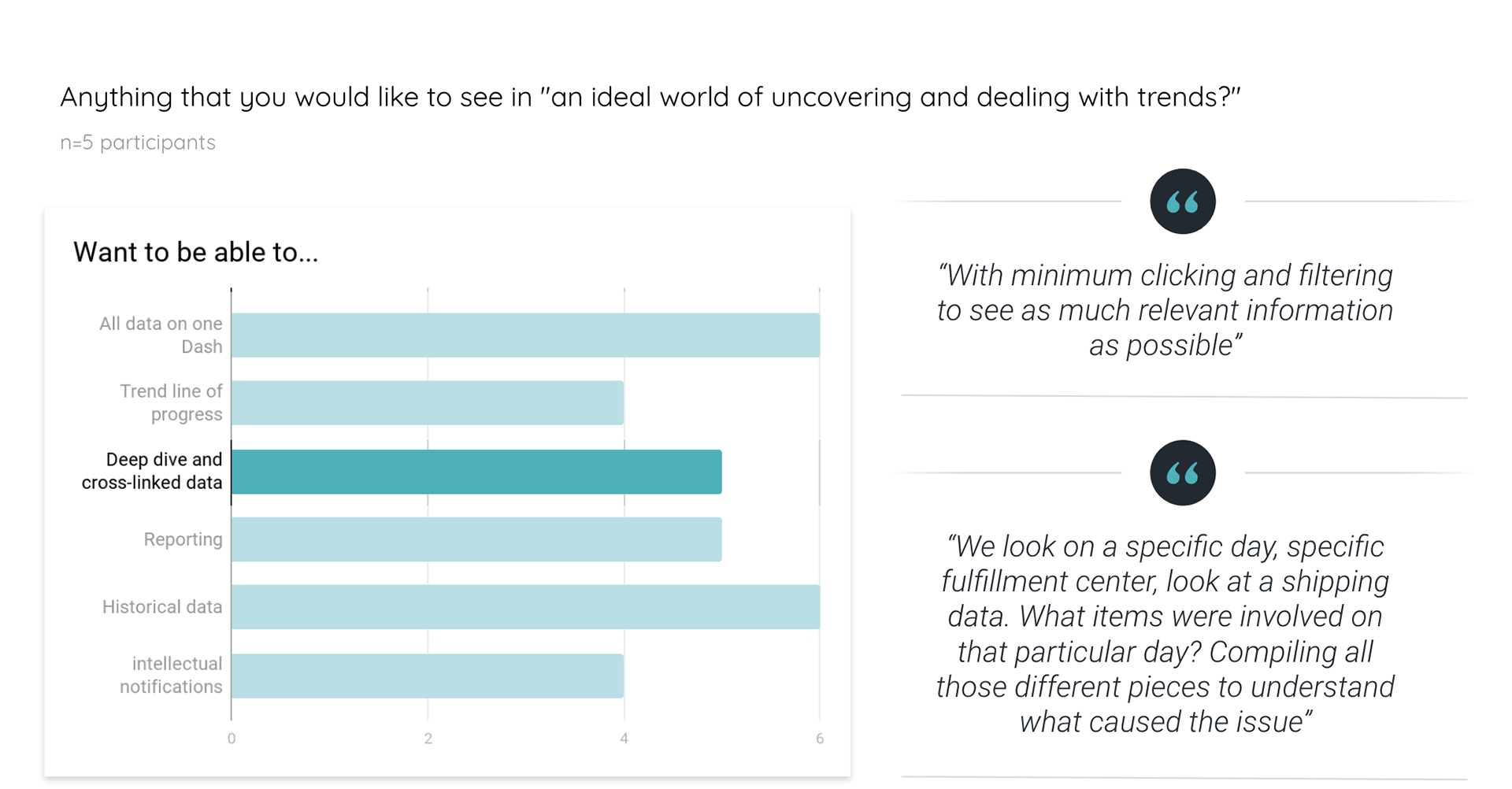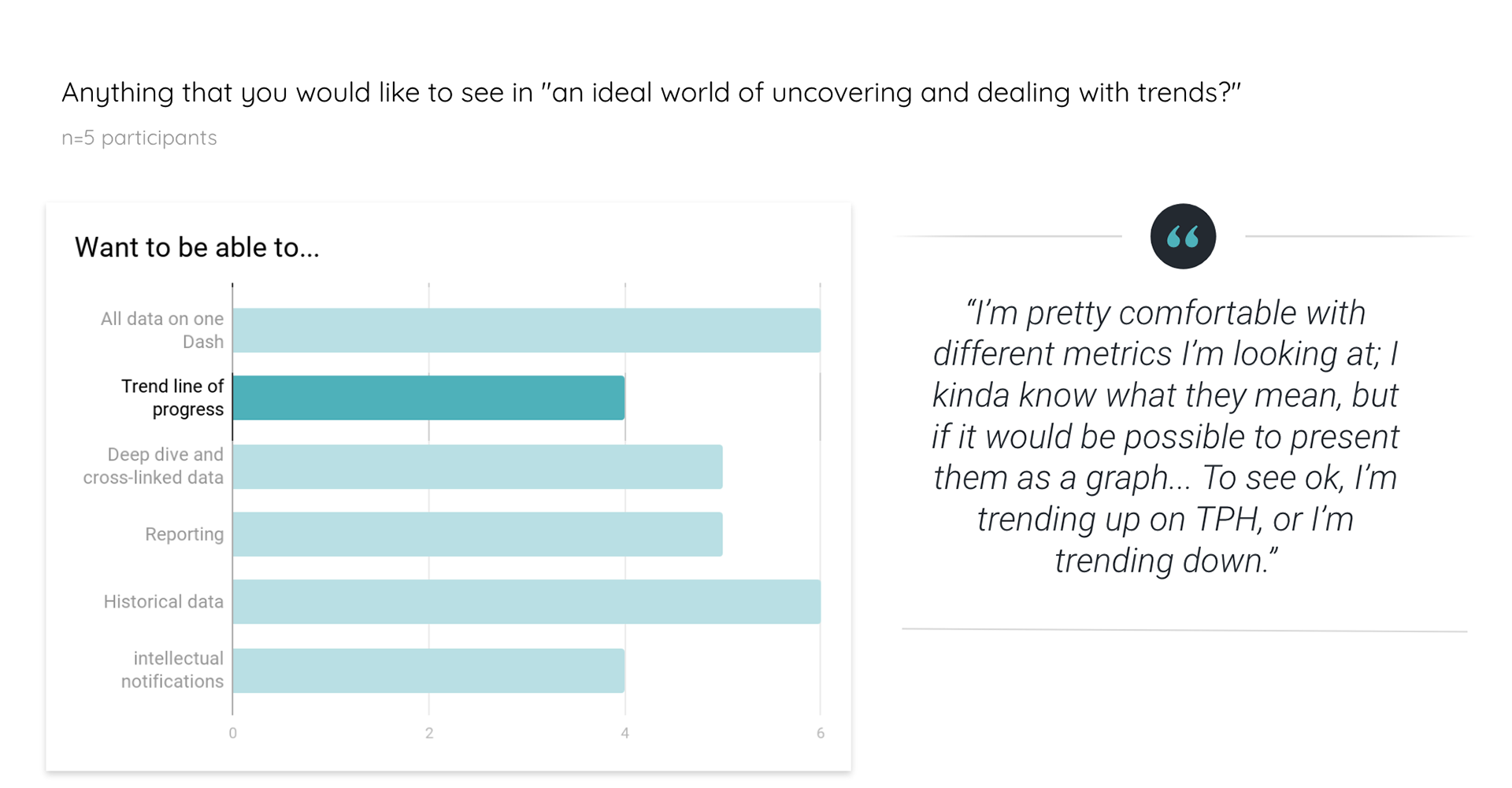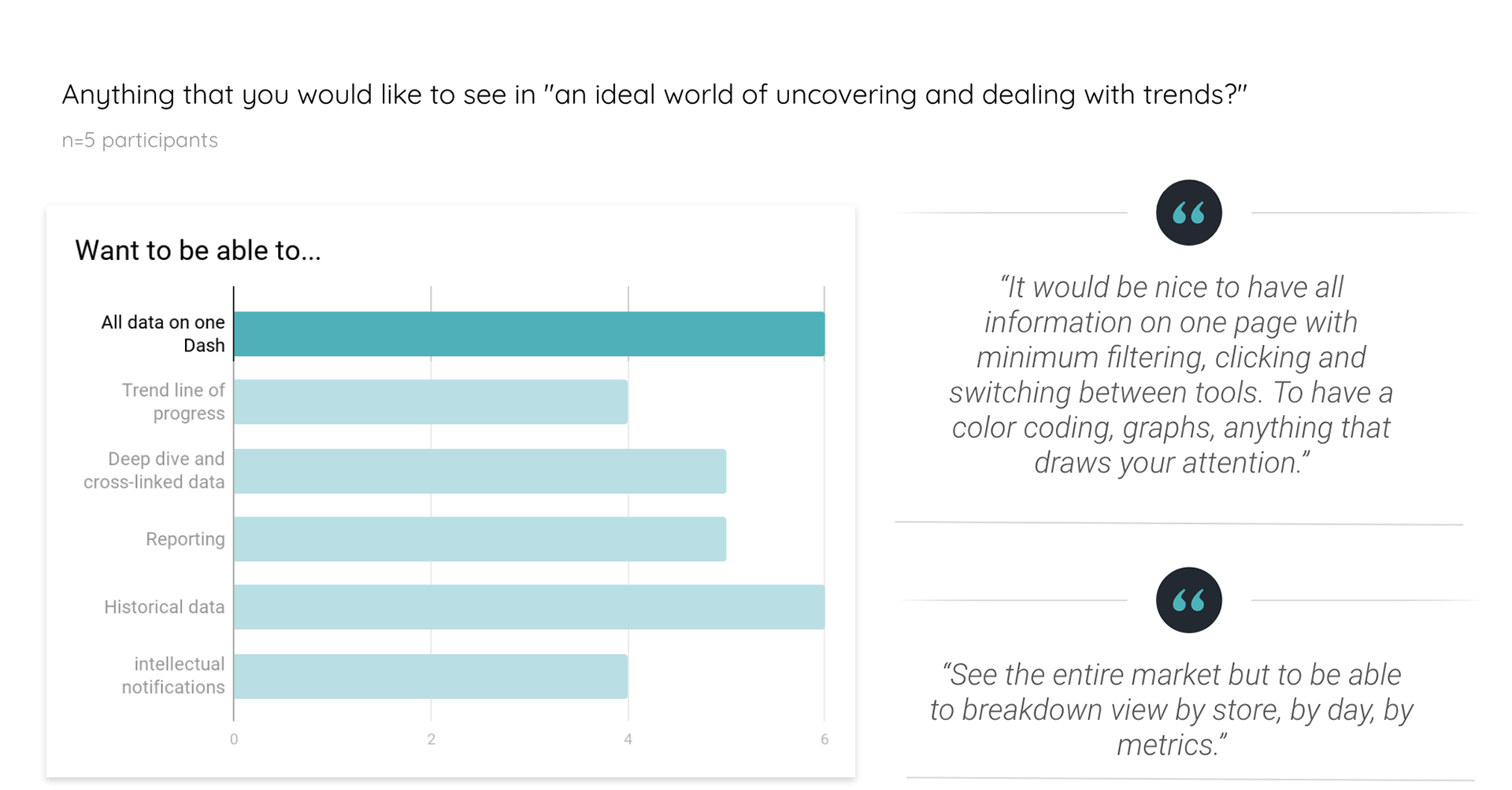 Key findings and users needs
​​​​​​​
Based on study findings, I
mapped the current user's flows and tasks
they perform daily and which tools they use to accomplish those tasks. 
I presented this map along with research finding to my team. In this way, all team members were on the same page. Sharing helped the team to develop empathy for our user's pain points. 
How might we help our users address short-term issues along with long-term improvements in resolving negative trends?

Users daily workflow and tools which used in daily routine
Every design problem was framed in a Job, focusing on the triggering event or situation, the motivation, and the goal. It helps teams stay on the same page and better understand the user's needs.

When I am managing across markets,

I want to be able to see the real-time performance of my stores as well as historical data

so I will stay informed and would be able to forecast future returns.
When I am managing stores,

I want the system proactively notify me if store behaves out of the usual performance

so that I can prevent the issue from occurrence beforehand.
When I am managing the market,

I want the system to show me the performance of my operators and metrics

so that I will set for success. 
When the problem occurs in my market,

I want the system to show me all related data,

so I know what caused the issue.
It was time to ideate some potential solutions for the framed problems. I used paper, pen, and whiteboard as a starting point for possible design solutions. Together with a team, we had a short sprint where we looked at our competitors and sketched the most exciting interface pieces on the whiteboard.​​​​​​​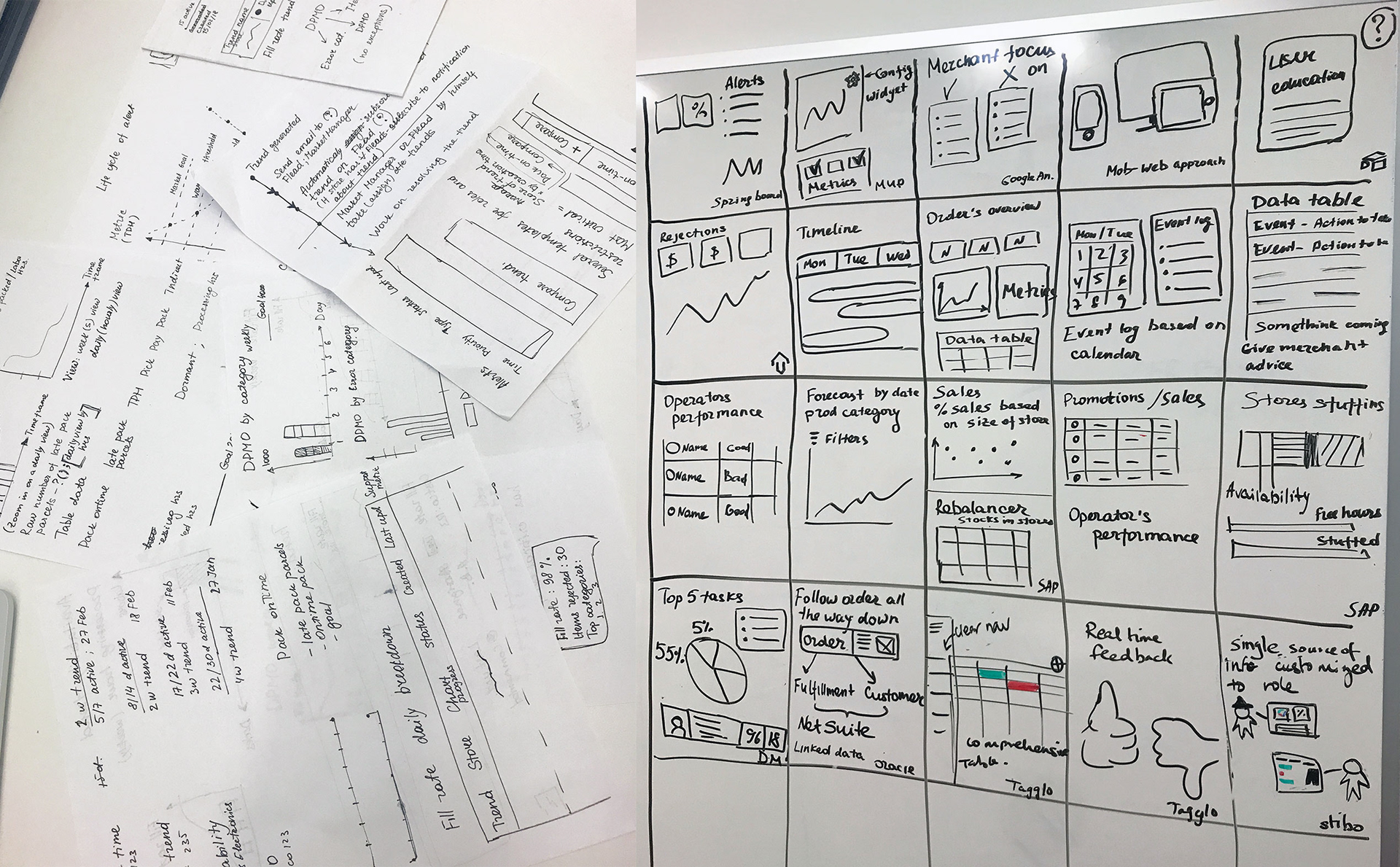 Sketches of potential solutions
As a next step, I designed mid-fidelity wireframes and conducted a critique session across teams. I printed wireframes and gathered Eng, PM, and UX folks in one room walked them through the concept. Comments or ideas which need to be explored the team wrote down on a post-it note and stuck them on the wall.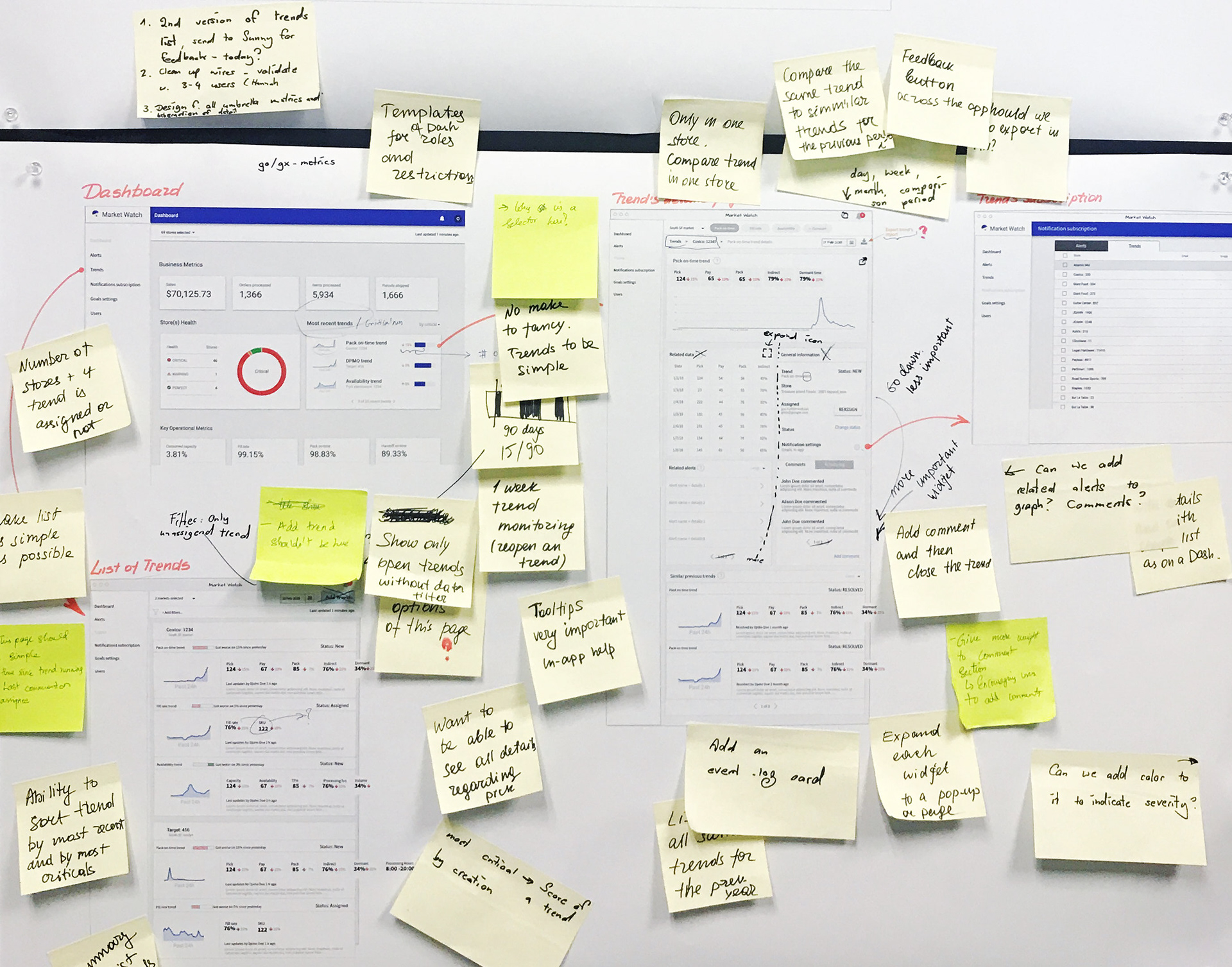 Critique session with Eng, PM and UX
As soon as ideas were validated, I started to add fidelity to wireframes and map the user flows. After all primary screens were ready, I ran a couple more critique sessions with the team to uncover possible gaps in the UX flow. 
The next step was to run a usability session with target users. Those studies proved that we are moving in the right direction, and I could start producing high-fidelity mockups.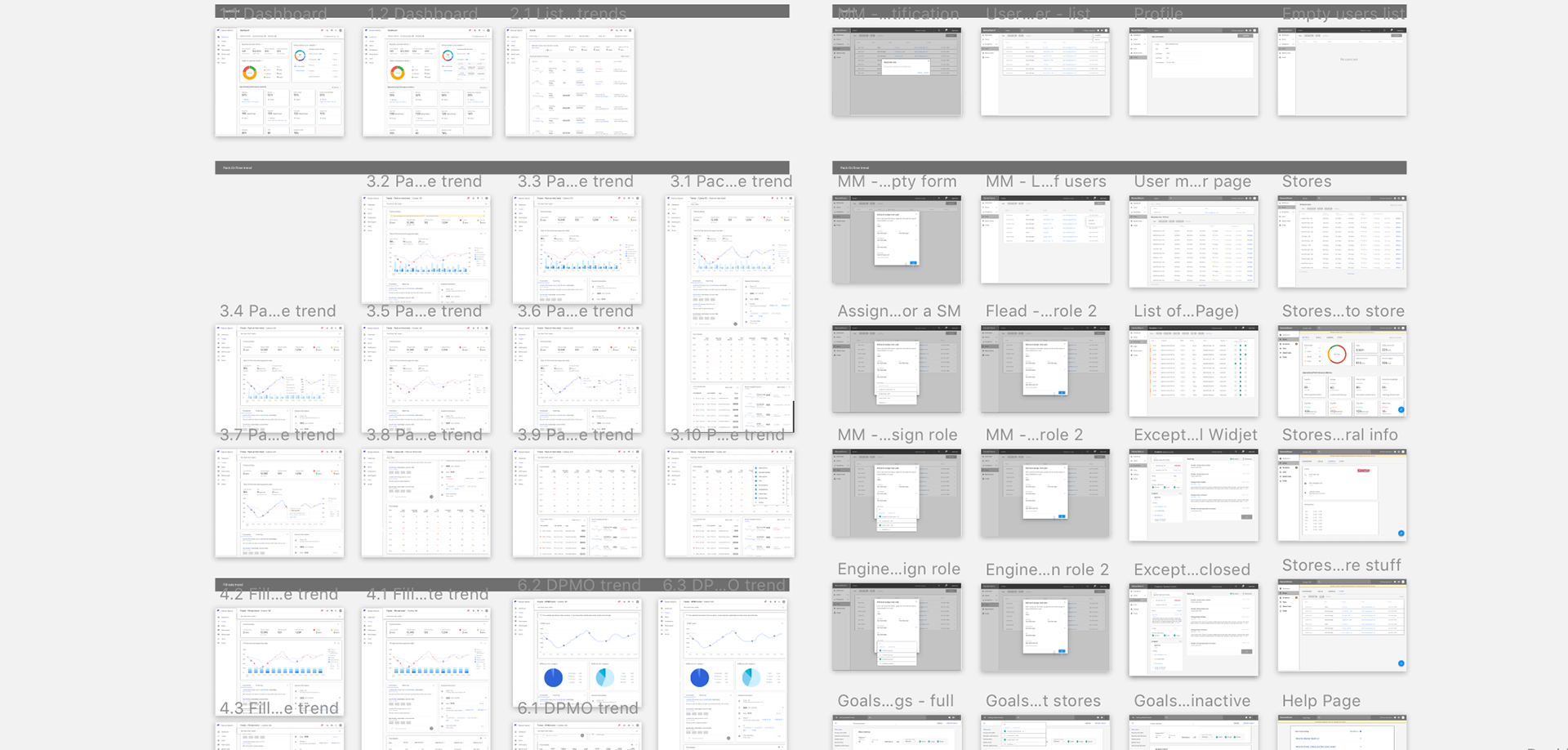 Prototyping and usability testing

I jumped into InVision to build a clickable prototype. I tested the prototype with
five new individuals.
Insights from the validation test led me to think more about the chart functionality and how better to surface supportive data. Below are the Hi-Fi mockups of my final solutions, including the fixes after the user testing.
Pain Point 1: Help users to address the short-term issues.
UX solution: 
We provide real-time data on the dashboard and build a proactive alert system that notifies users beforehand if the store performs out of the usual behaviour. With this alerting system, our users can address short-term issues and proactively remove the obstacles rout caused the problem.
Pain Point 2: Help users to address the long-term issues. 
UX solution: 
We keep historical data and proactively inform users of an ongoing negative trend in their stores. The proactive trends tracking system tells users if the same issue occurs regularly and what actions to resolve those. The supportive data shows users what caused the issue. And how to prevent the occurrence of the same problem in the future.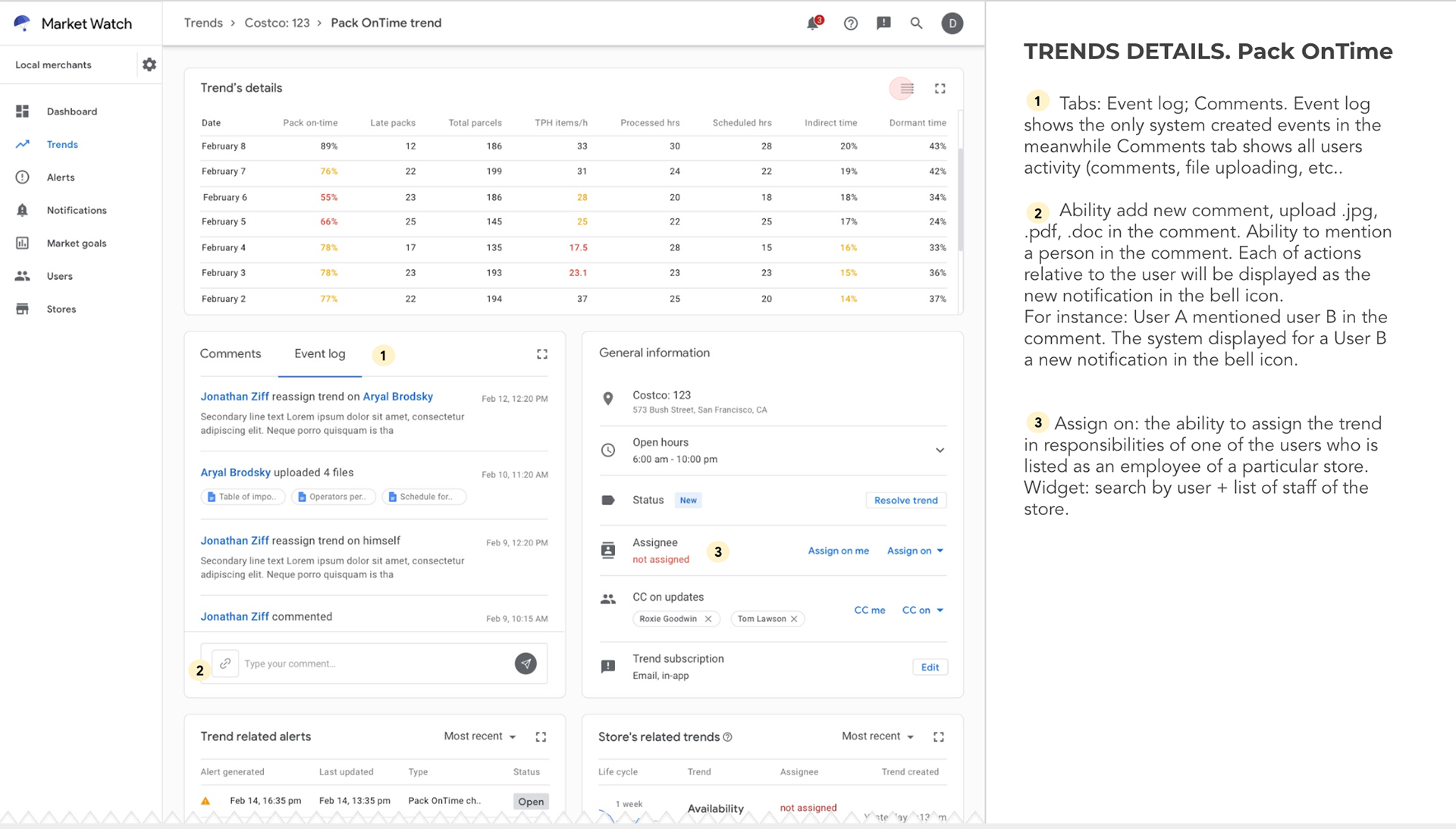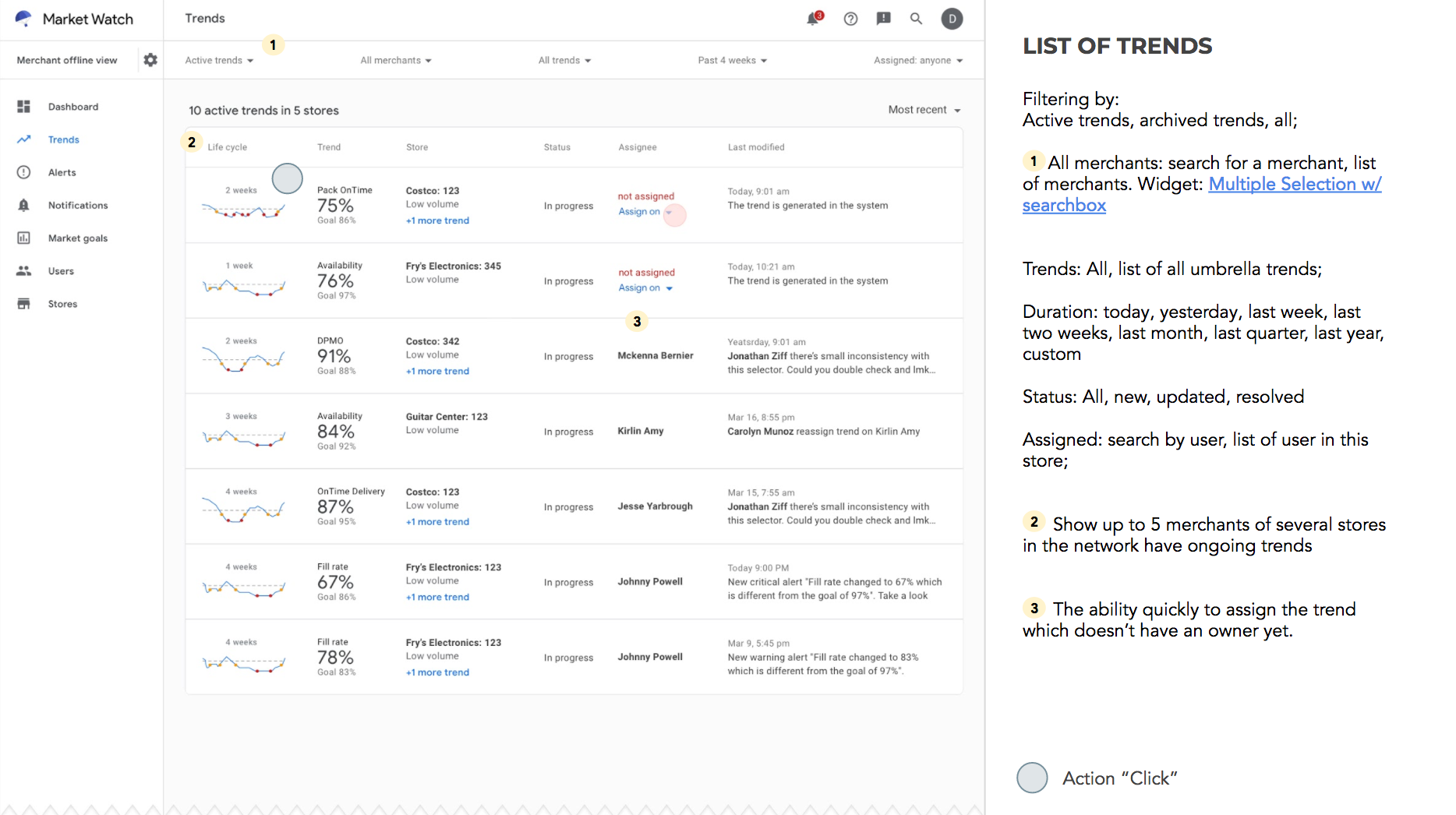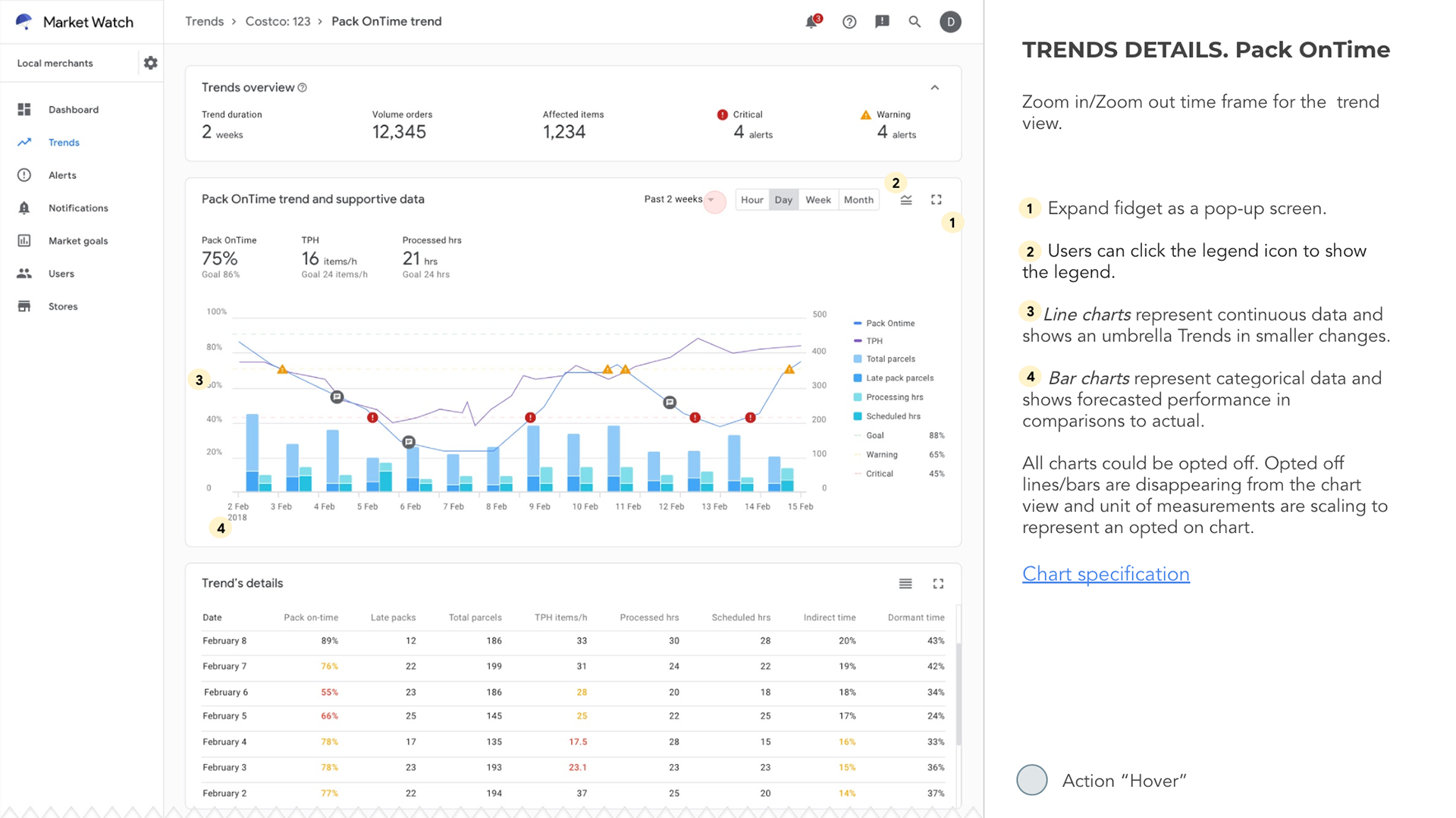 Some of the screens from UX spec
Takeaways
In an analysis done five weeks after the launch, when rolled out to all stores with the new structure, the app manages stores more than 30% more efficiently than before. Overall it was an exciting and complex challenge. Our goals were to remove manual processes from daily work, reduce costs per order and improve the store managing workflow. Built-in app analytics proved that we successfully achieved the set of goals.