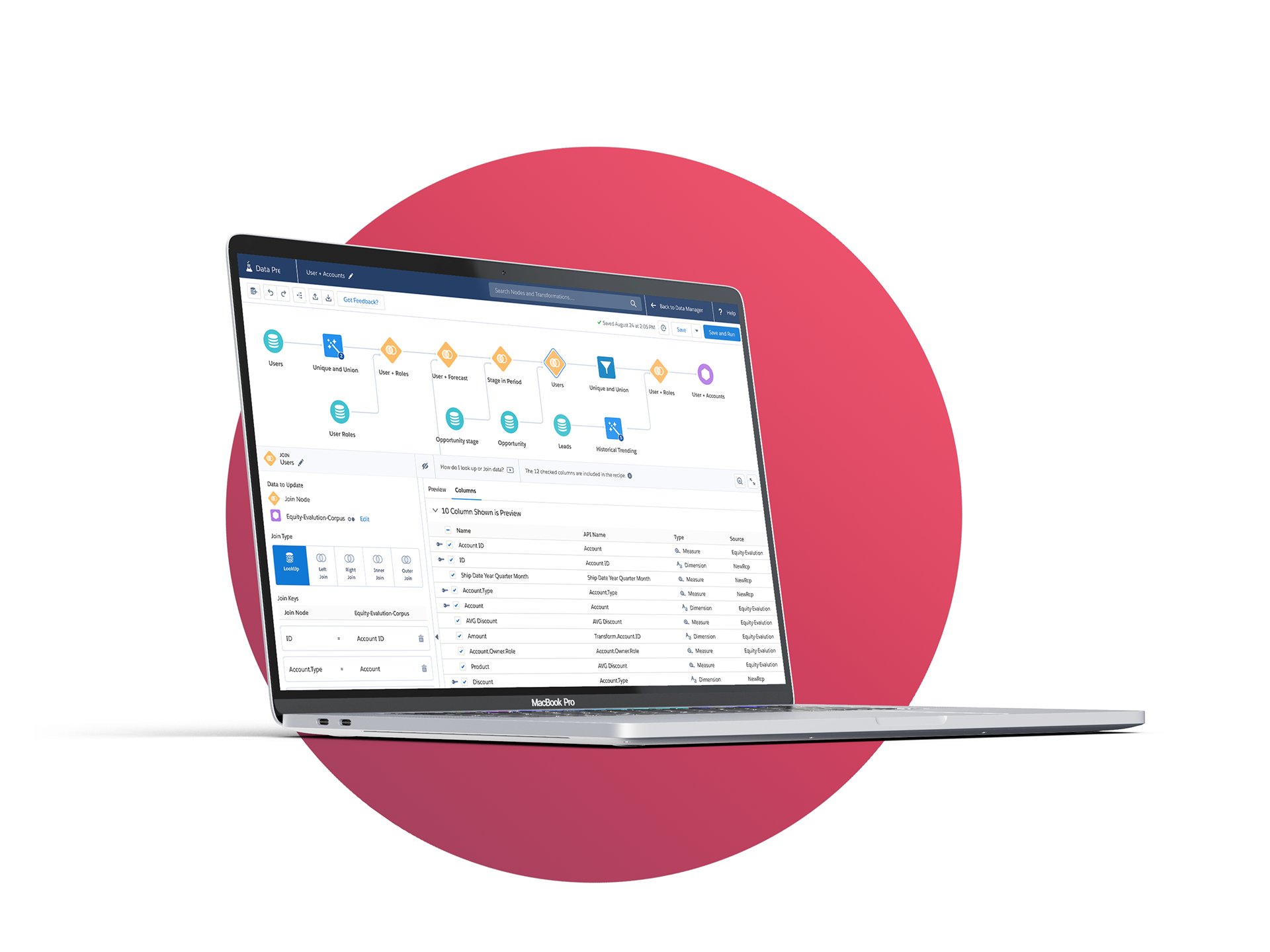 My Role
As a solo designer, I led and owned the complete design process from zero to end: from ideating, to user research, prototyping and designing, collaborating with cross-functional teams, and supporting development cycles. 
Led a North Star vision for the product, produced wireframes, user stories, JTBD, UX flows, mockups, interactive prototypes, design specifications, release planning decks, final assets as well as use case development.
The Team
This product involved close collaboration and partnership with 5 scrum teams, approximately 60 engineers, 5 products owners, and cloud-level stakeholders.
Toolbox
Figma • InVision • Axure RP • Principle • Abstract • AdobeCC • G-Suite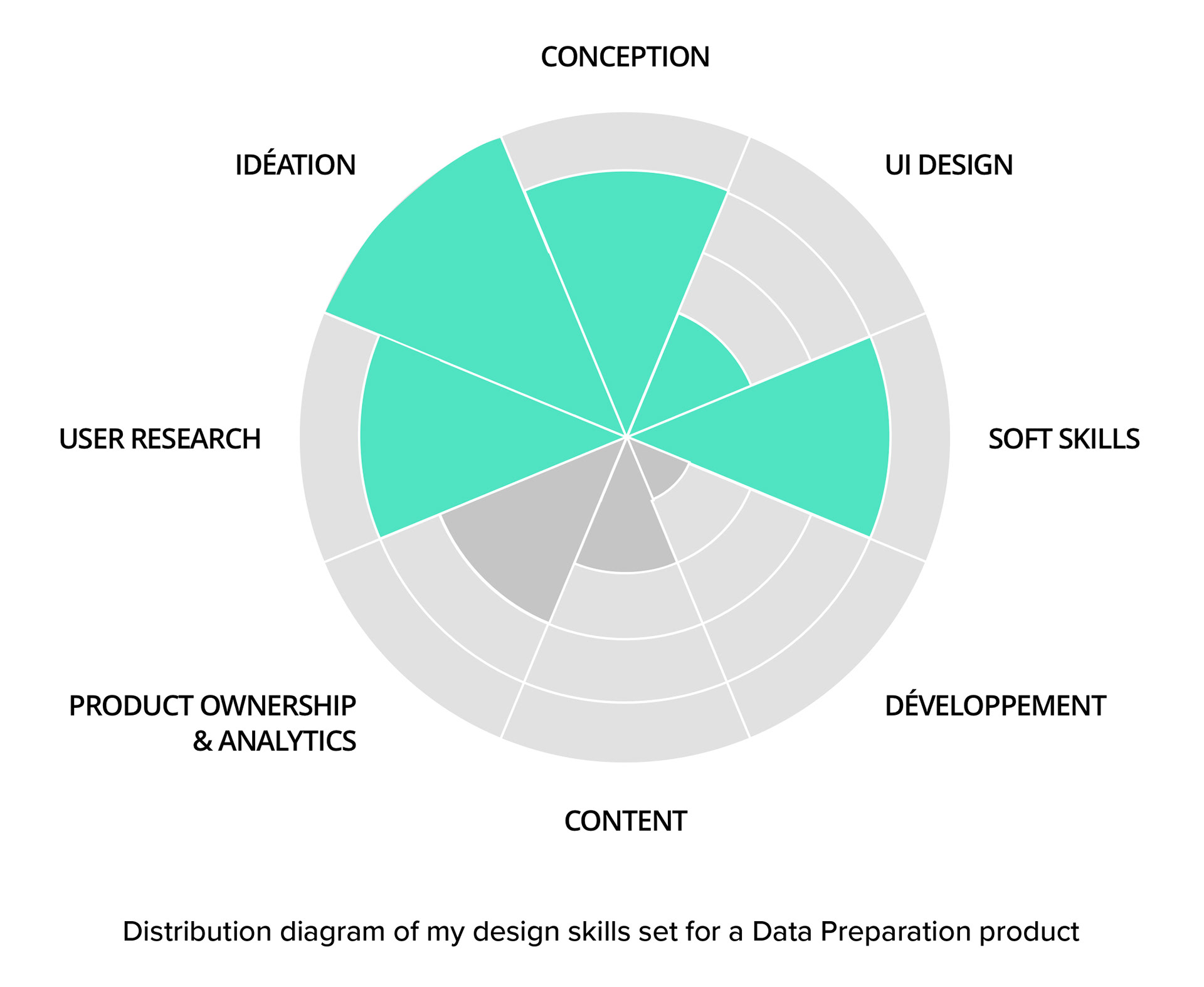 Introduction
The project's goal was to redesign and deprecate three exciting tools for data preparation and redesign the entire user experience of how customers work with their data from the ground up.
What is Analytics Data Prep?
A powerful tool used to shape data in the Analytics Data Platform. Direct visual experience gives users a deeper understanding of data. The power of ML feeds Smart algorithms and helps to save time and overcome common data prep challenges.
​​​​​​​
At a time, Analytics Cloud already had customers who were using existing tools.
Data Storyteller
uses datasets to build Dashboards, time-to-time use data prep tools to clean data, a more visual person not advanced in JSON & SQL. 
Data Architect and Data Shepherd
 are strategic roles, robust with data cleansing methods, most of the time spend building data flows. They are advanced in using JSON and SQL, ML, and data models for cleansing data.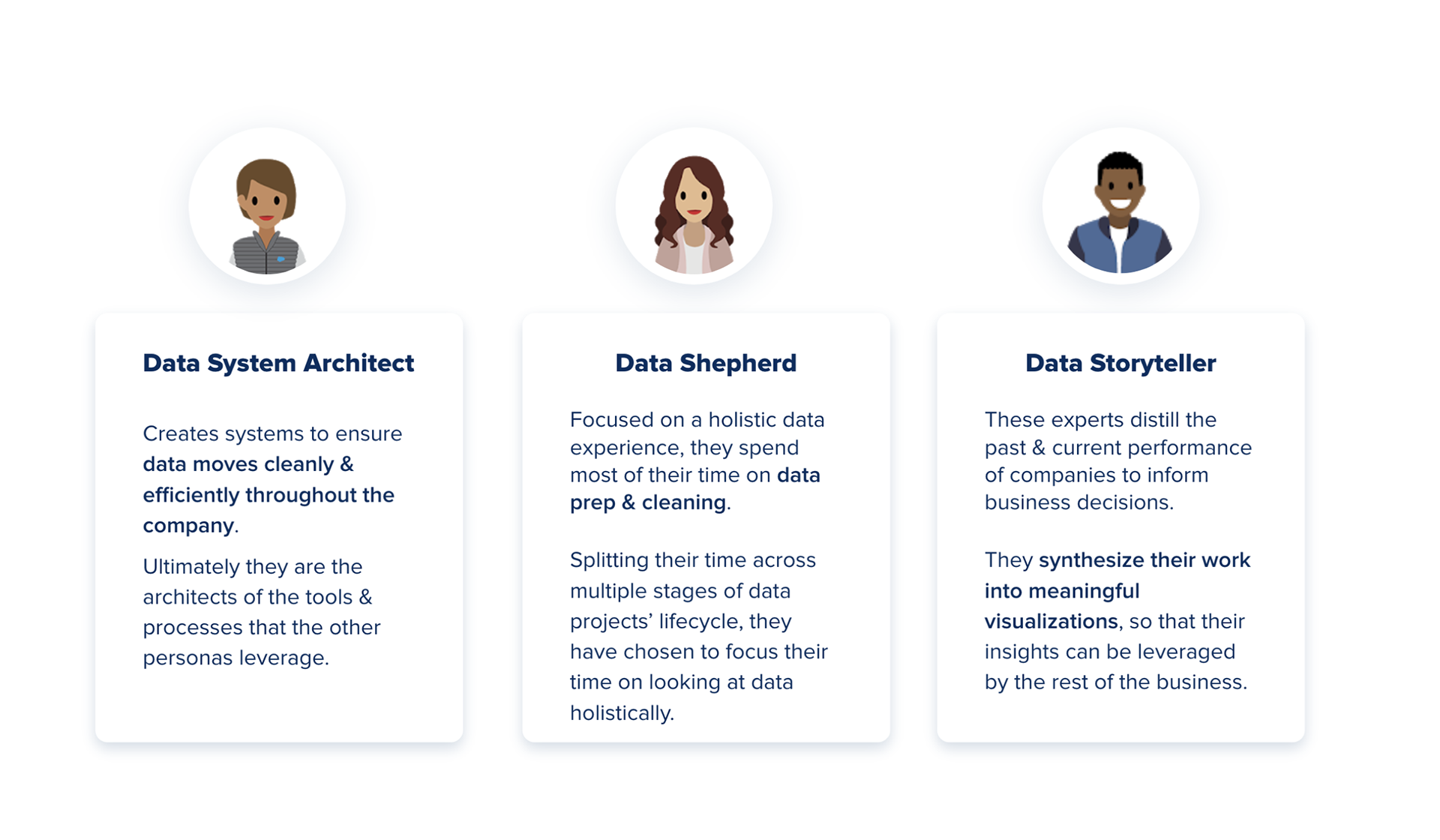 Current Products Offering
Challenge
Analytics Cloud has multiple data products that 
overlap significantly
and use cases
,
creating confusion
for users about which to choose. Those
products are not complementary
. There is
no migration path
from one tool to another. If users need more robust data cleansing operations, they must create a data flow from scratch in another product. Features that are exclusive to one tool are desired in another builder and vice versa.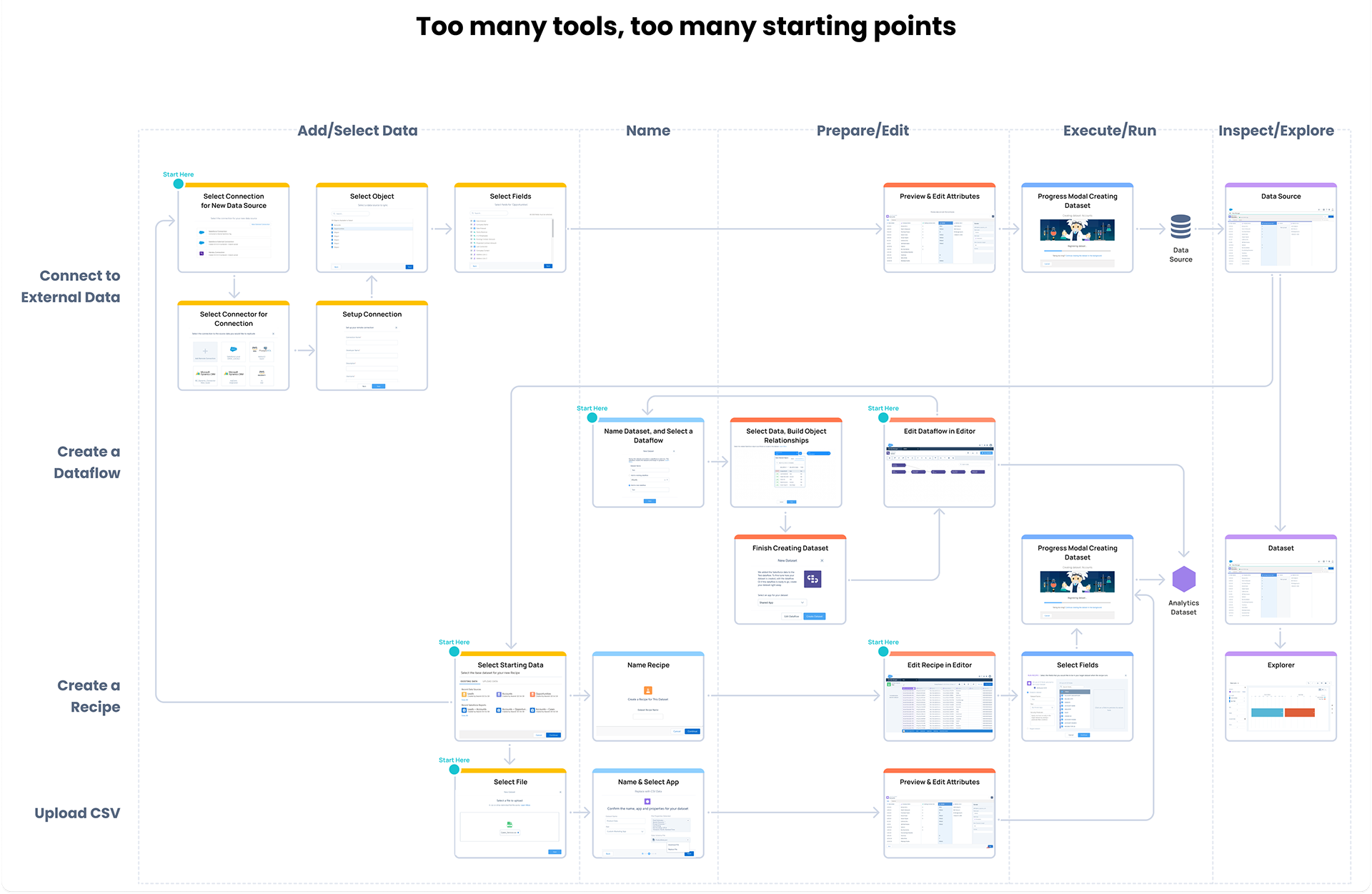 Firstly, we needed to 
u
nderstand users' pain points
with current Analytics Cloud product offerings and the opportunities for new tools in the customer's daily life. 
Tools audit was conducted to create a
user journey map
. It helped identify how customers start their flow, where the user flows have dead-ends and which steps they need to complete a flow successfully.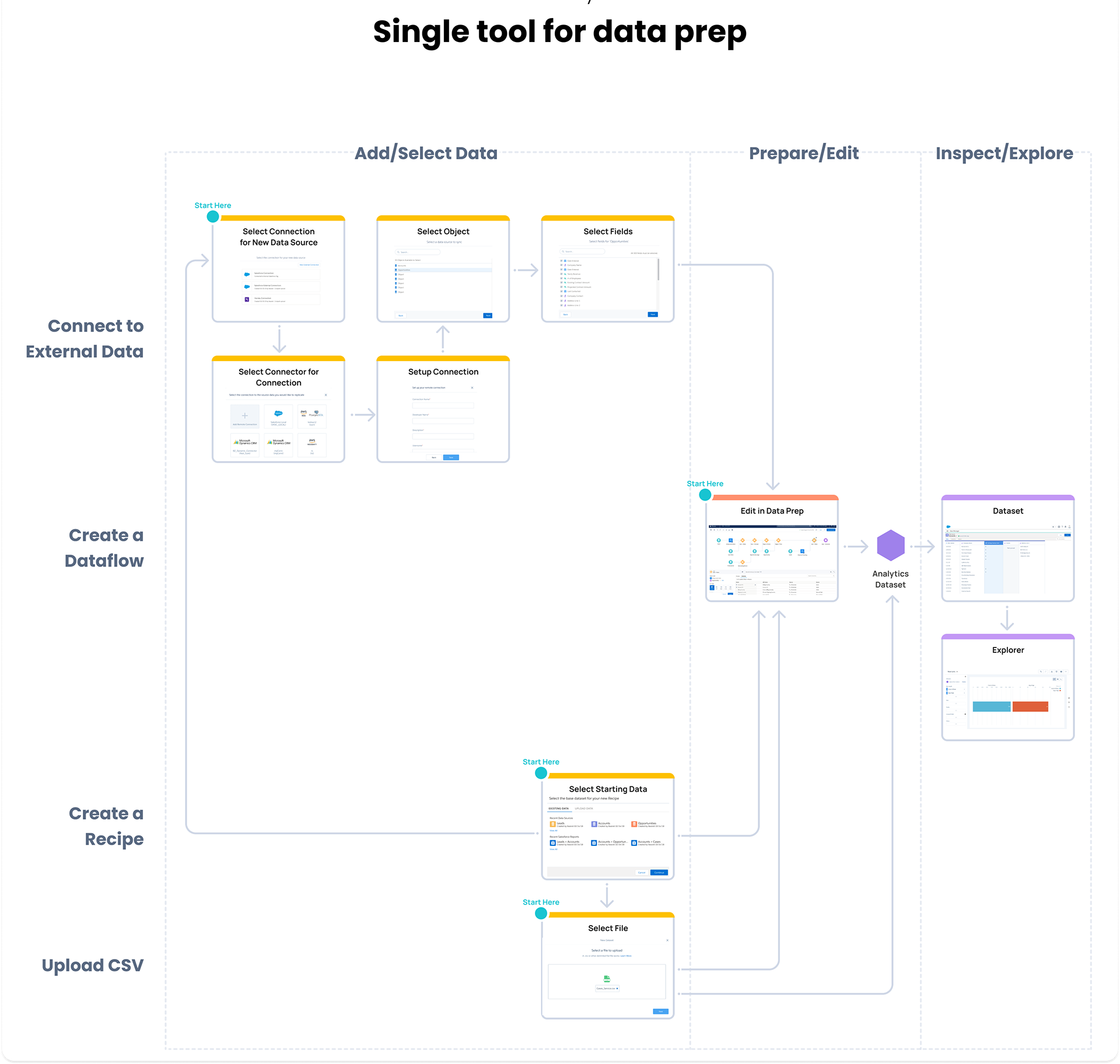 Consolidate three existing tools
into one a web-based
robust
and
responsive interface
. 
The best features and capabilities
of Flows, Recipes, Dataset are
consolidated into one cohesive experience
and make a tool approachable for Analysts, and its core features are robust for Data Architects.​​​​​​​
There is a business need for a tool that provides a powerful yet simplistic visual interface
for users from entry-level to data experts
.
How Data Prep Builder creates value?
Because the product and design teams have been talking to customers regularly, we had a high-level idea of some of the major pain points with current tool offerings. Therefore we had some assumptions about how the project can benefit our customers. Now we needed to validate assumptions with customers and get buy-in from stakeholders. 

UX Development Timeline
Salesforce operates on a release schedule. I created a UX development timeline to set expectations and align a project development timeline to a company's schedule. Having a clear timeline helped keep everyone on the same page during regular check-ins and provided visitability to cross-functional teams.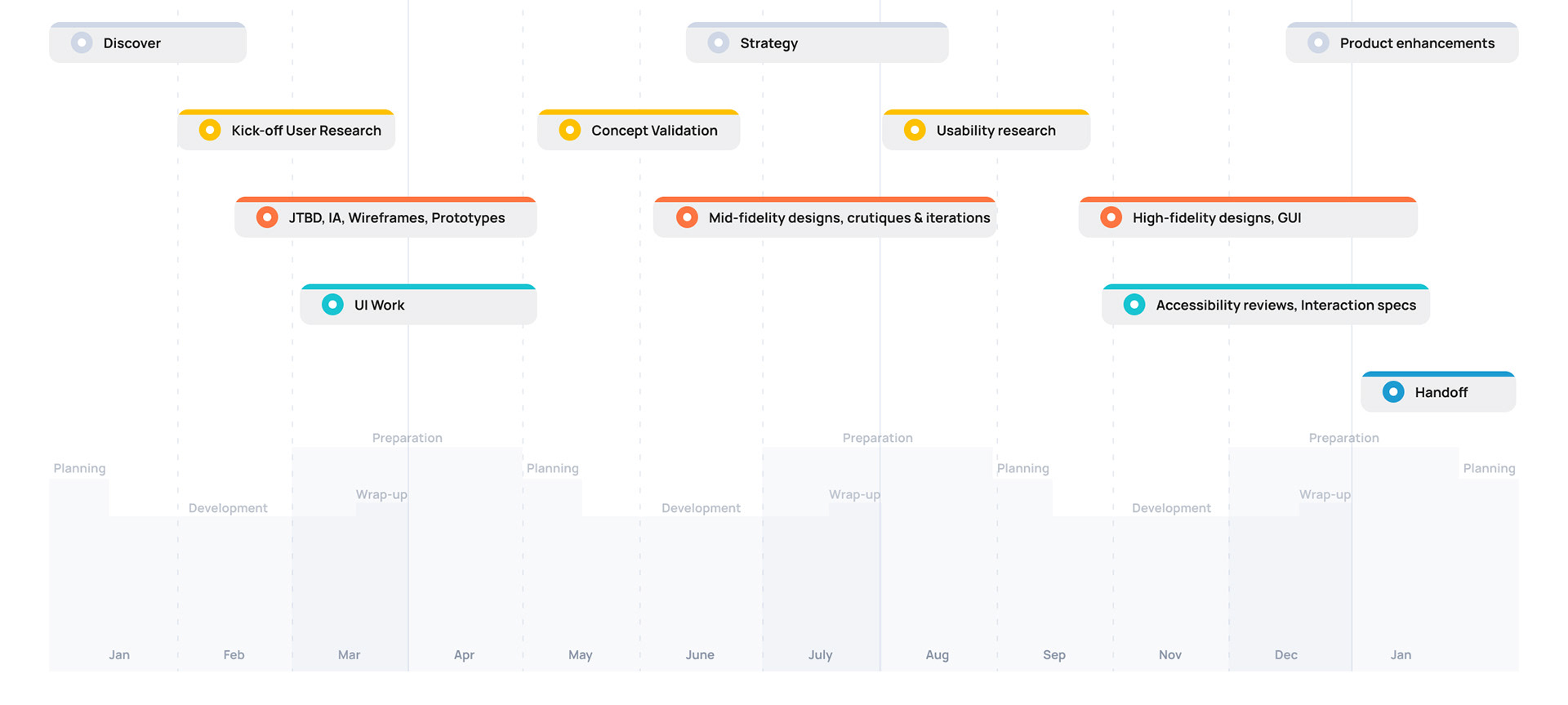 UX Commitment and Deliverables
The project involved a collaboration between 5 cross-functional teams, so communication was a critical element of the project's success. Having a clear map of design deliverables over a release schedule helped bring that communication one step further.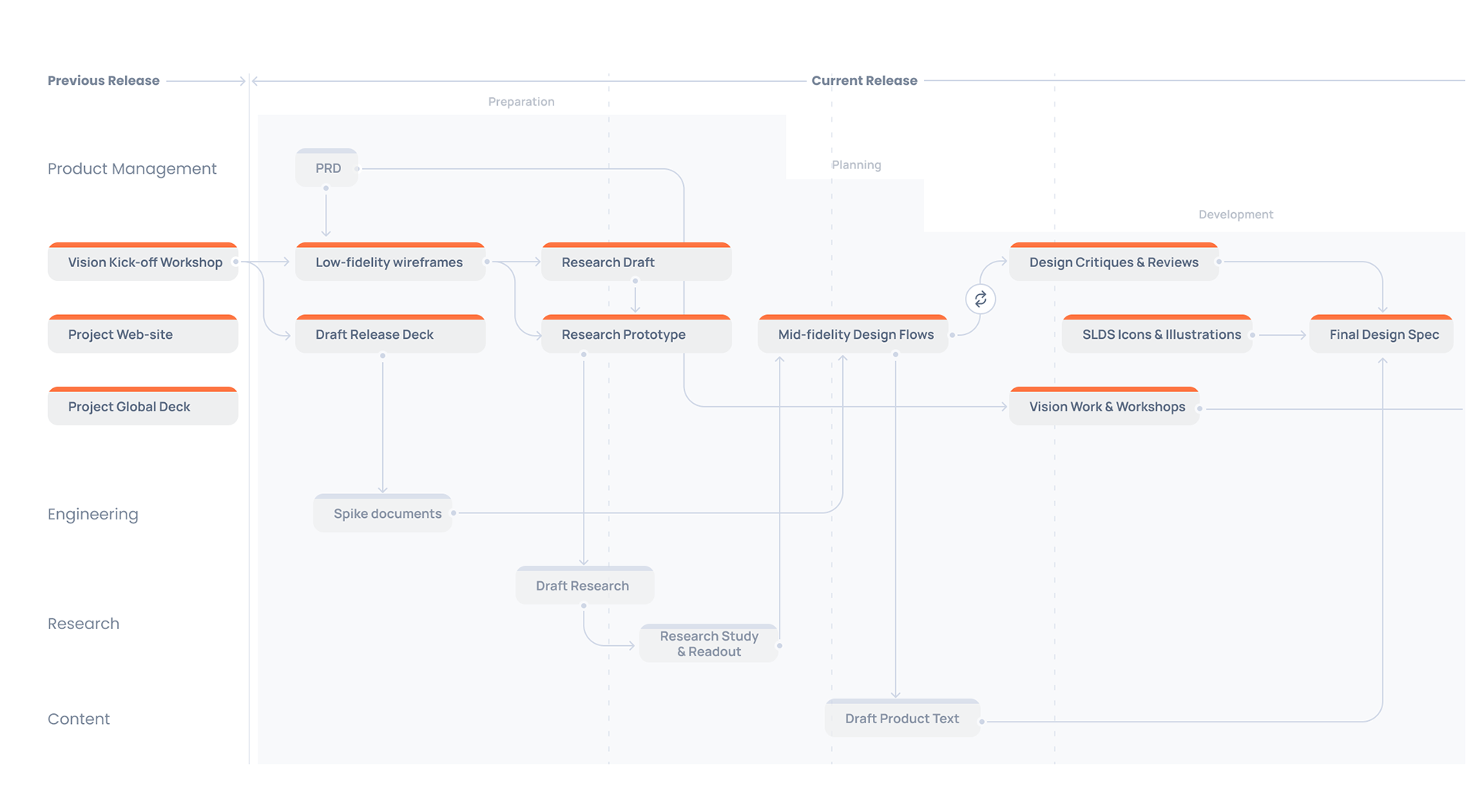 In collaboration with the research team, we conducted
five studies
using different research methodologies
to collect data on each facet of the existing solutions to answer our research questions:
what is working and what's not
in current implementations.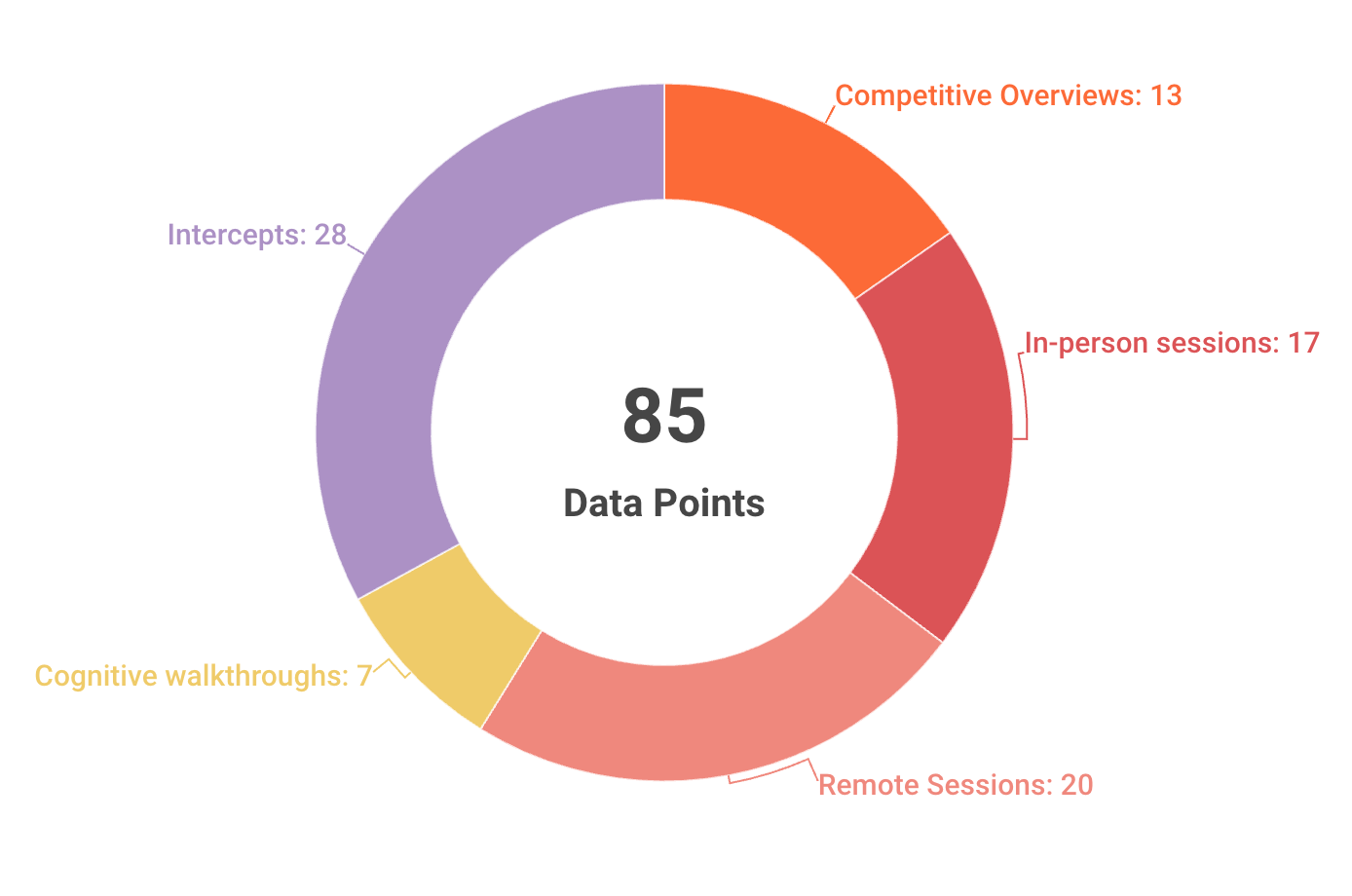 It became apparent that users think of preparing data as
like working with post-it notes.
They need the ability to get an overview of live data. 
While preparing data, users need to
visualize and keep track
of how data transforms at every step. Customers would prefer to have a
real-time data preview
, a visual schematic representation of how data flows, and a
robust cleansing transformation
to address vital power users' needs.
Insight:
Some of the entry-level Analysts had a hard time answering questions or completing tasks. We realized that this was due to the ambiguity of our terminology and the use of industry terms.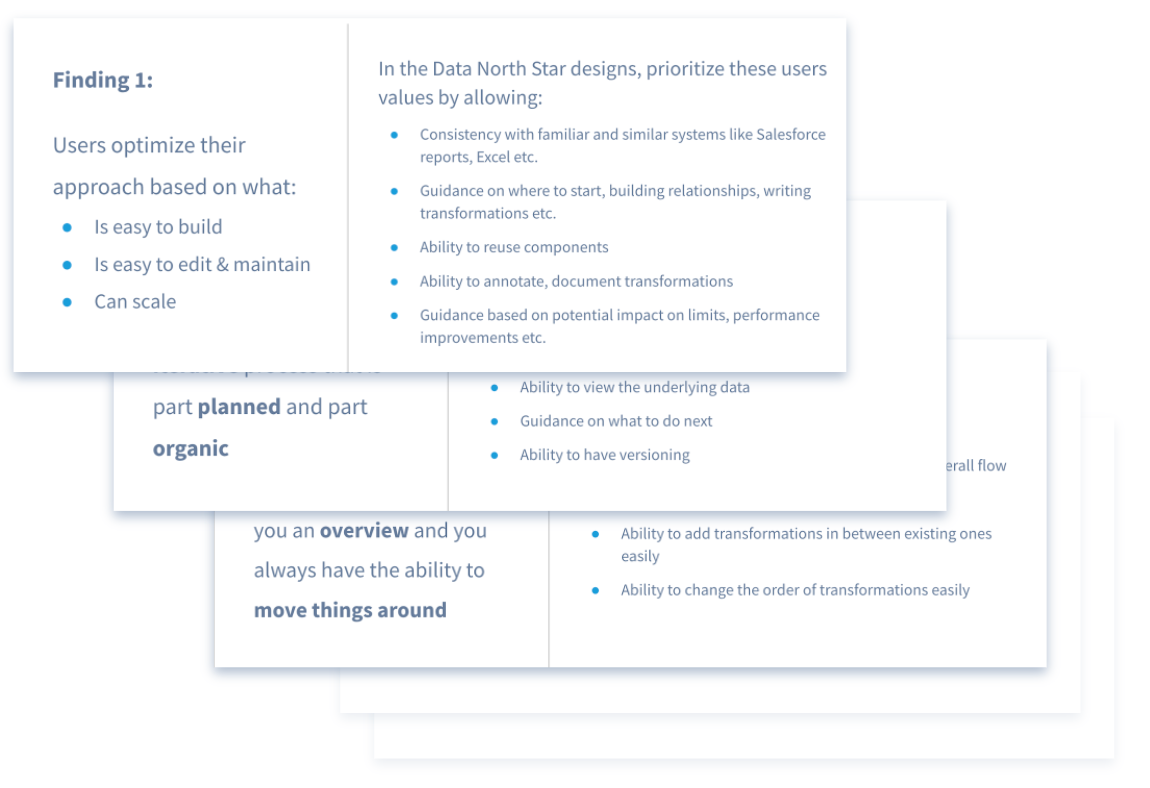 Design Studio
The foundational research helped to inform our next step - the
Design Studio with internal stakeholders, cross-functional team members and field experts
. I hosted a session with a diverse team in a room: PMs, engineers, design and research were invited to participate in the workshop. We shared out report findings, and PM gave a lightning talk about the space and problem we are trying to solve. The brainstorming session allowed everyone to develop empathy with customers and share their ideas.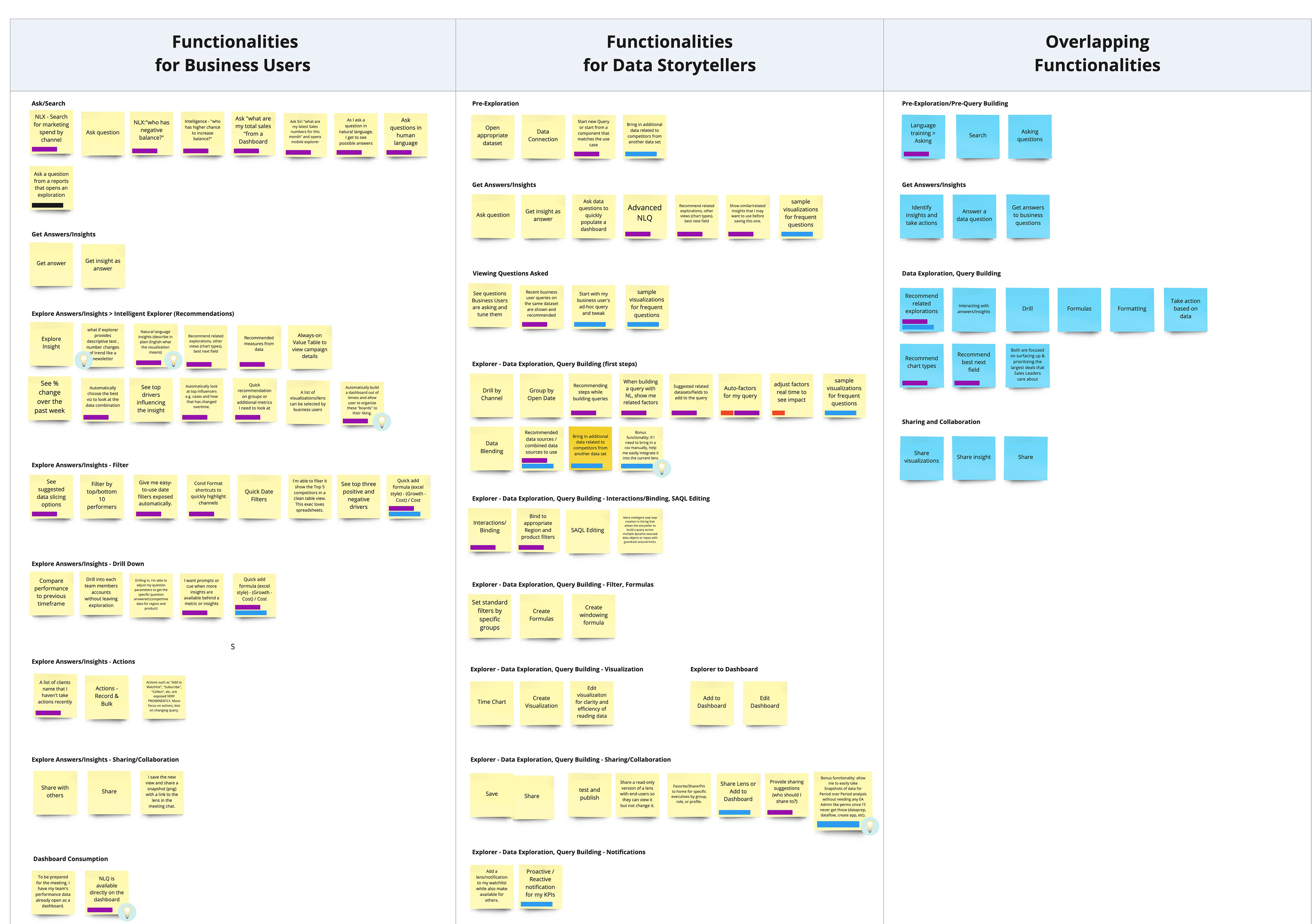 Jobs To Be Done and User Flows
At the ideation stage, there were lots of many great ideas generated and defined the main Jobs To Be Done based on each persona. The next step was to combine these ideas and into a comprehensive and exhaustive list of user flows and JTBD.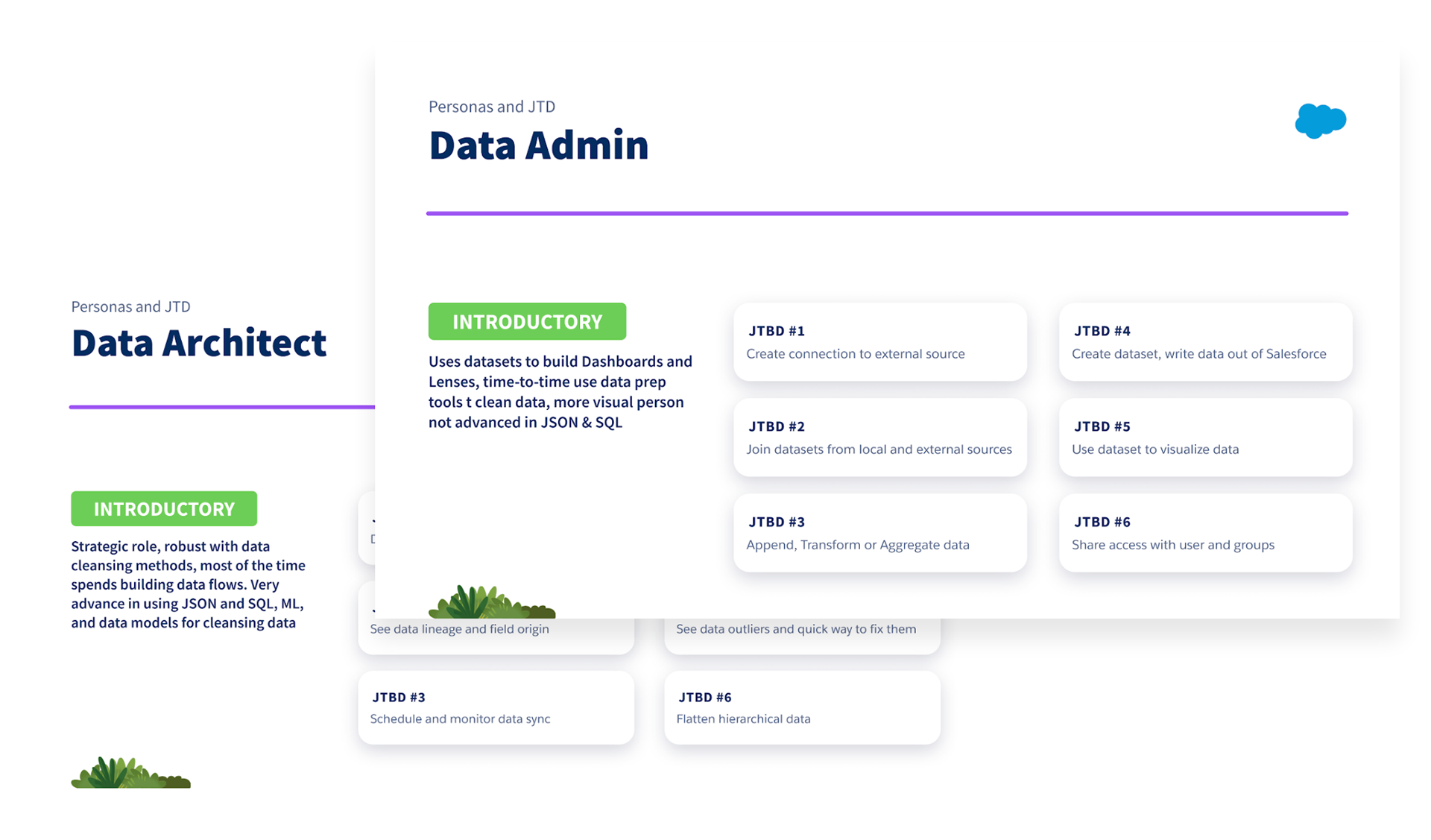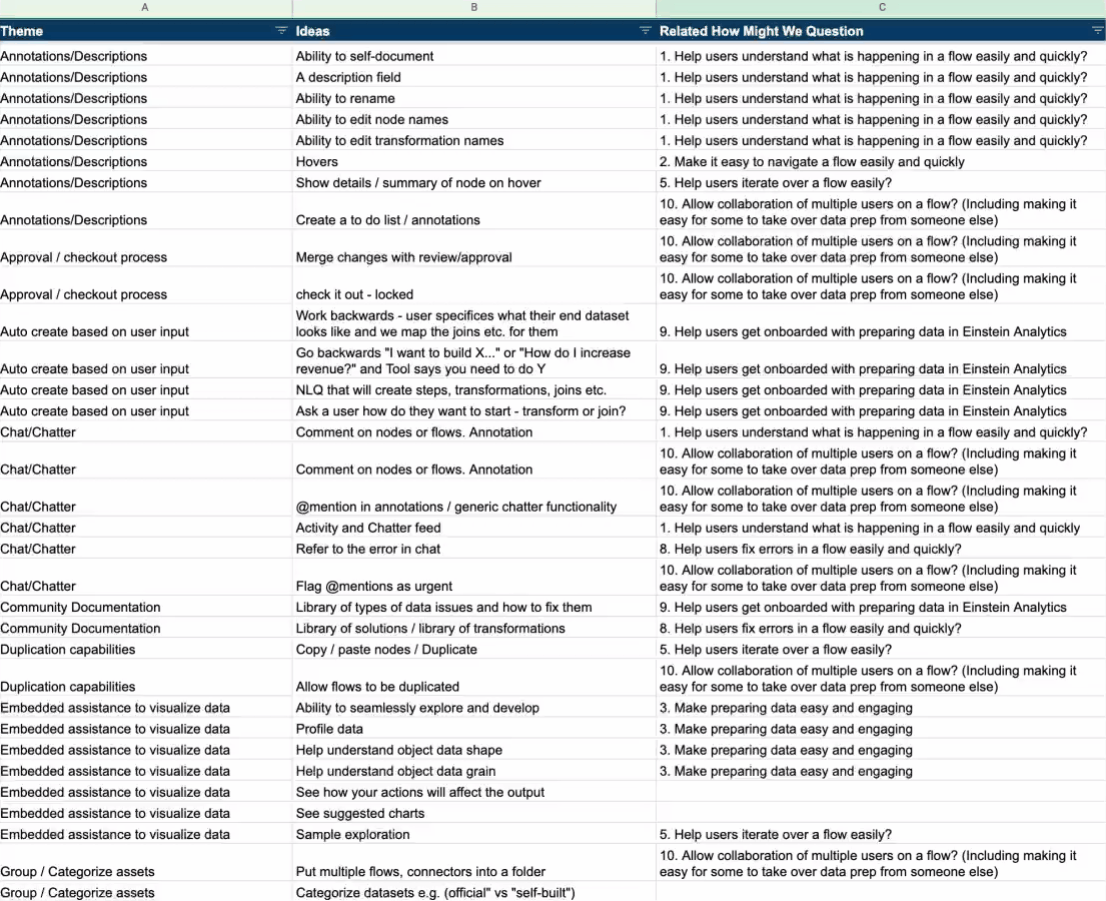 Feature Prioritization Exercise
After the team settled on the general concept, we conducted a feature prioritization exercise.
Ideas were plotted on a simple Effort/Impact matrix.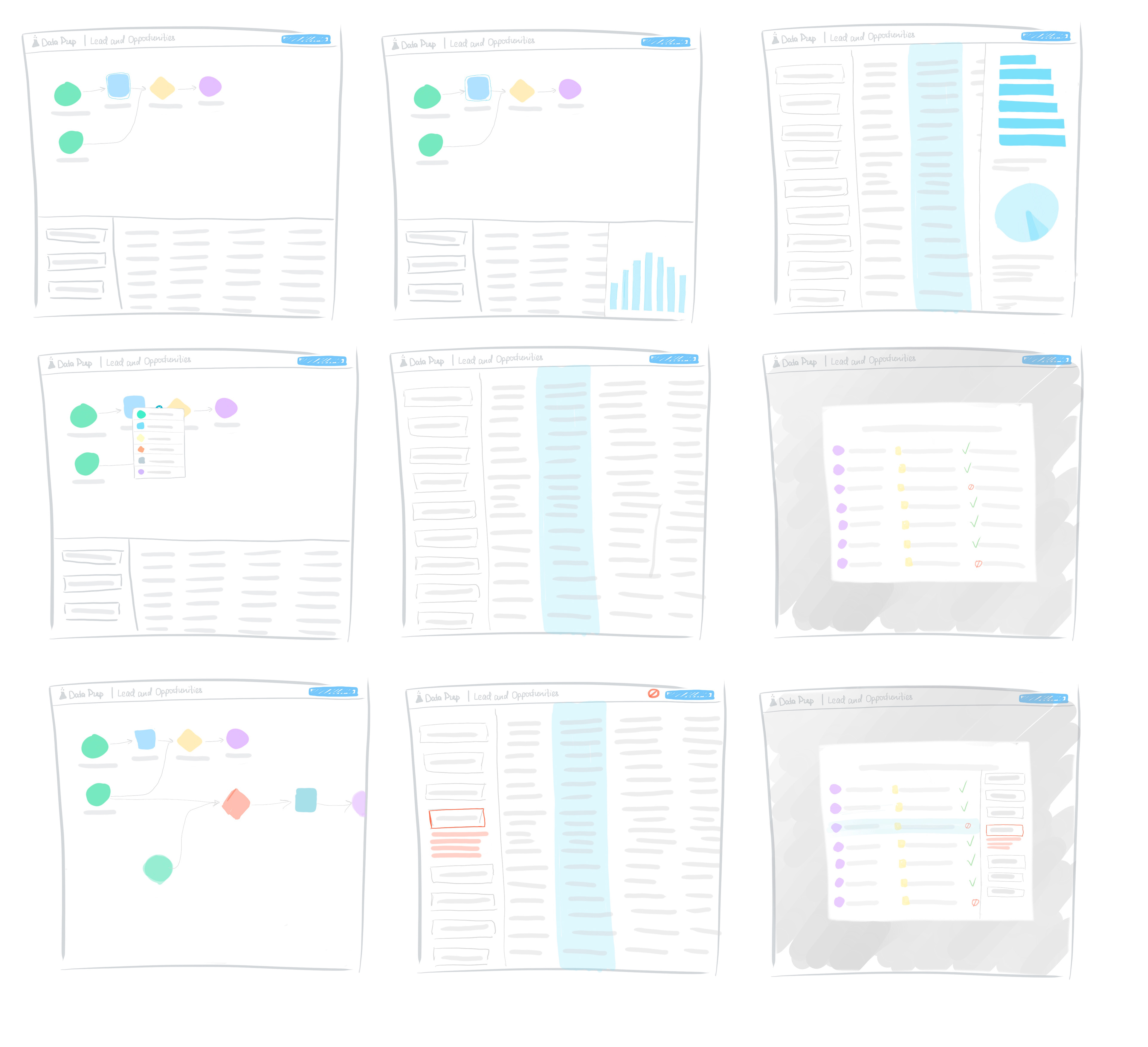 At this point, I've had lots of information to get started on designing the interface. 
I used digital, and paper sketches to explore various concepts, shared them with a team, and discuss the ones that best reflect discovered user needs. Using low-level drawings on early-stage conceptualization allowed quickly to visualize and test multiple ideas and discard ideas that didn't perform well. 
Because we were building such a product from scratch, there was a lot of open question on how users would interact with the tool: 
How does the graph behave? What is the logic of node placement? How does the user interact with panels and nodes? How does the user prep the data? And etc. 
To find answers to those questions, I've created an interactive prototype using
Axure RP
.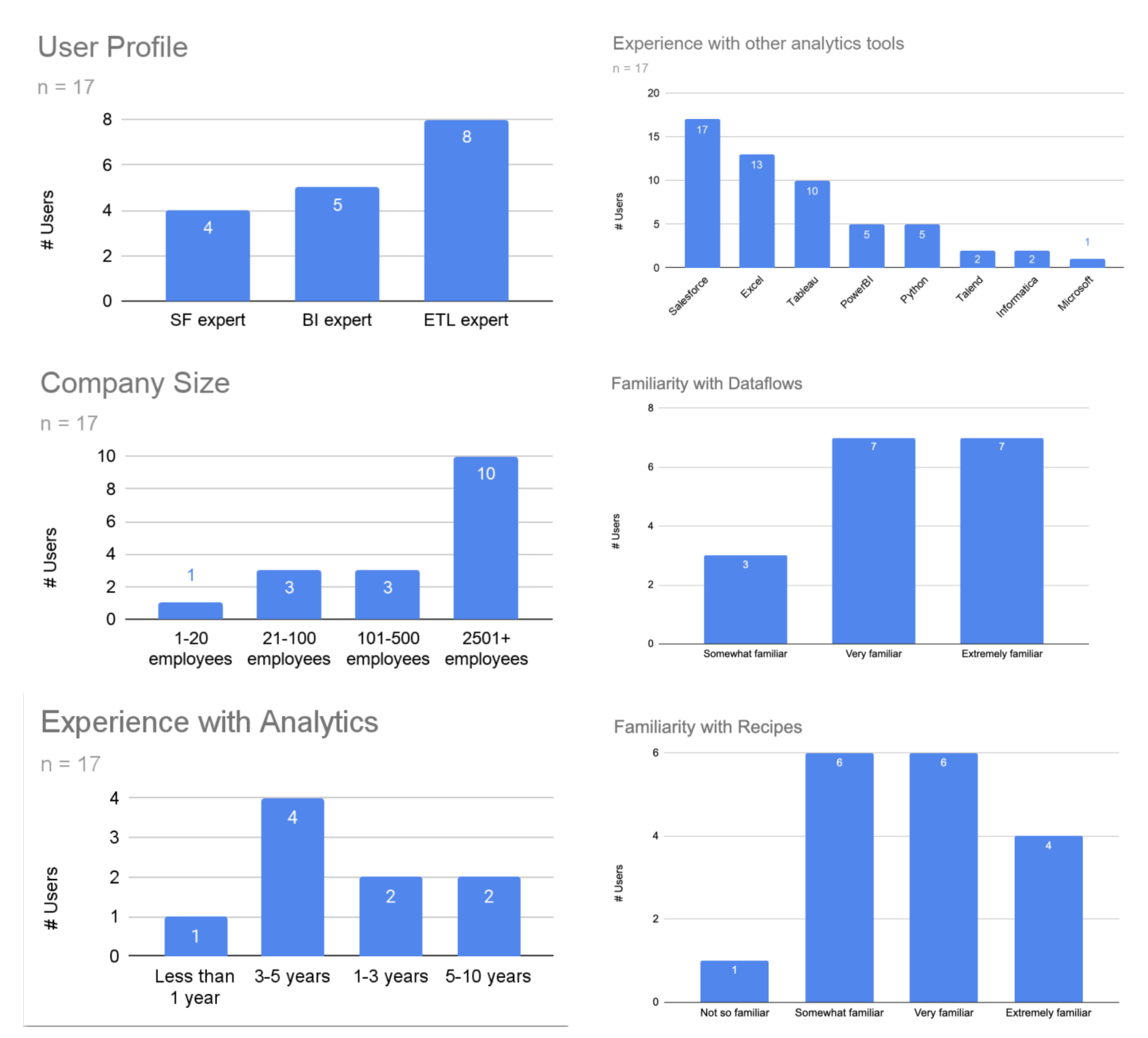 With the help of the research team we conducted
17 remote moderated session
with customers. We made sure to have a wide range of skill and expertise represented in our study: from Novus users to BI experts. 
Some of the top findings
Highlights of the experience: 
• Clarity on a clear visual graph layout, shapes of nodes and an overview of various transformations. 
• The ability to add transformations anywhere in the flow, reorder steps and rearrange nodes on canvas. The ability to move steps around quickly.
• Creating multiple outputs as different data types were very well received.
• Seeing live data preview and real-time error troubleshooting considered by customers as a tremendous improvement. 
Recommendations:
• Consider providing onboarding and lots of in-product help, videos, etc.
• Provide intelligence capabilities in combining & scheduling data.
• Provide users with the ability to specify a dependency on flows and the ability to change output destination and the kind of data push.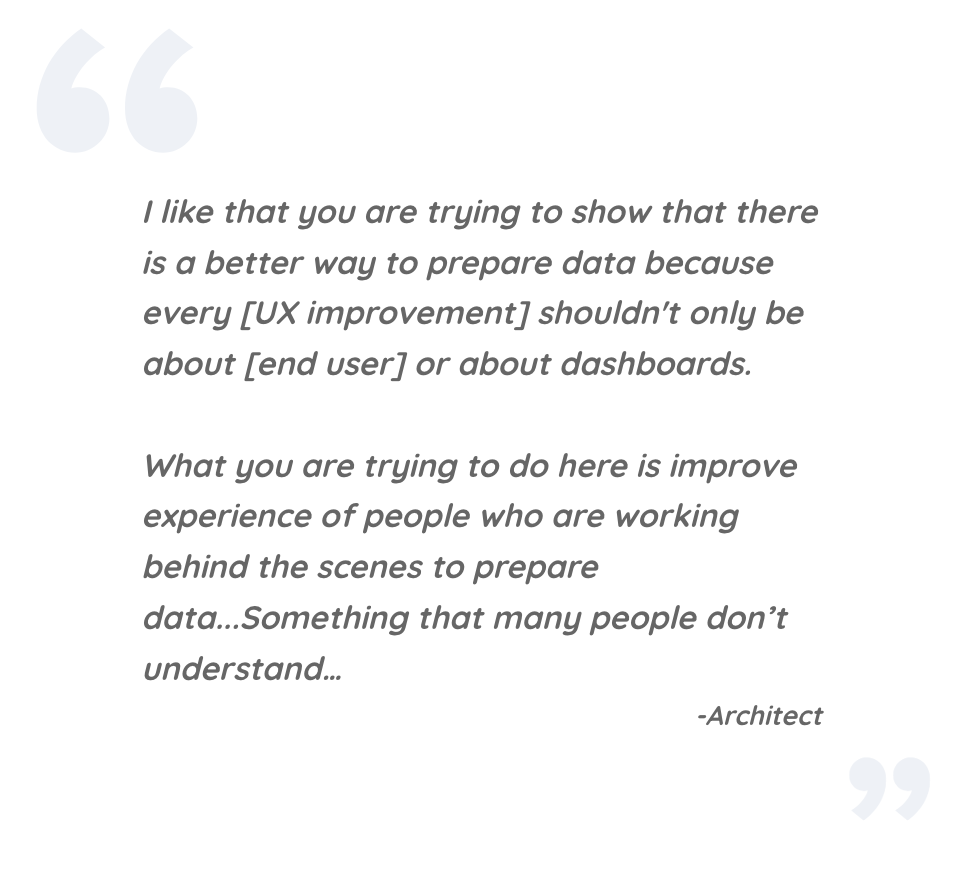 Based on our feature prioritization exercise, generated ideas, and user expectations, I've created a
mind map
of the ultimate tool.
Visualizing ideas as a map helped better structure the information. Consolidating data from multiple sources was used by a product for future references in future releases.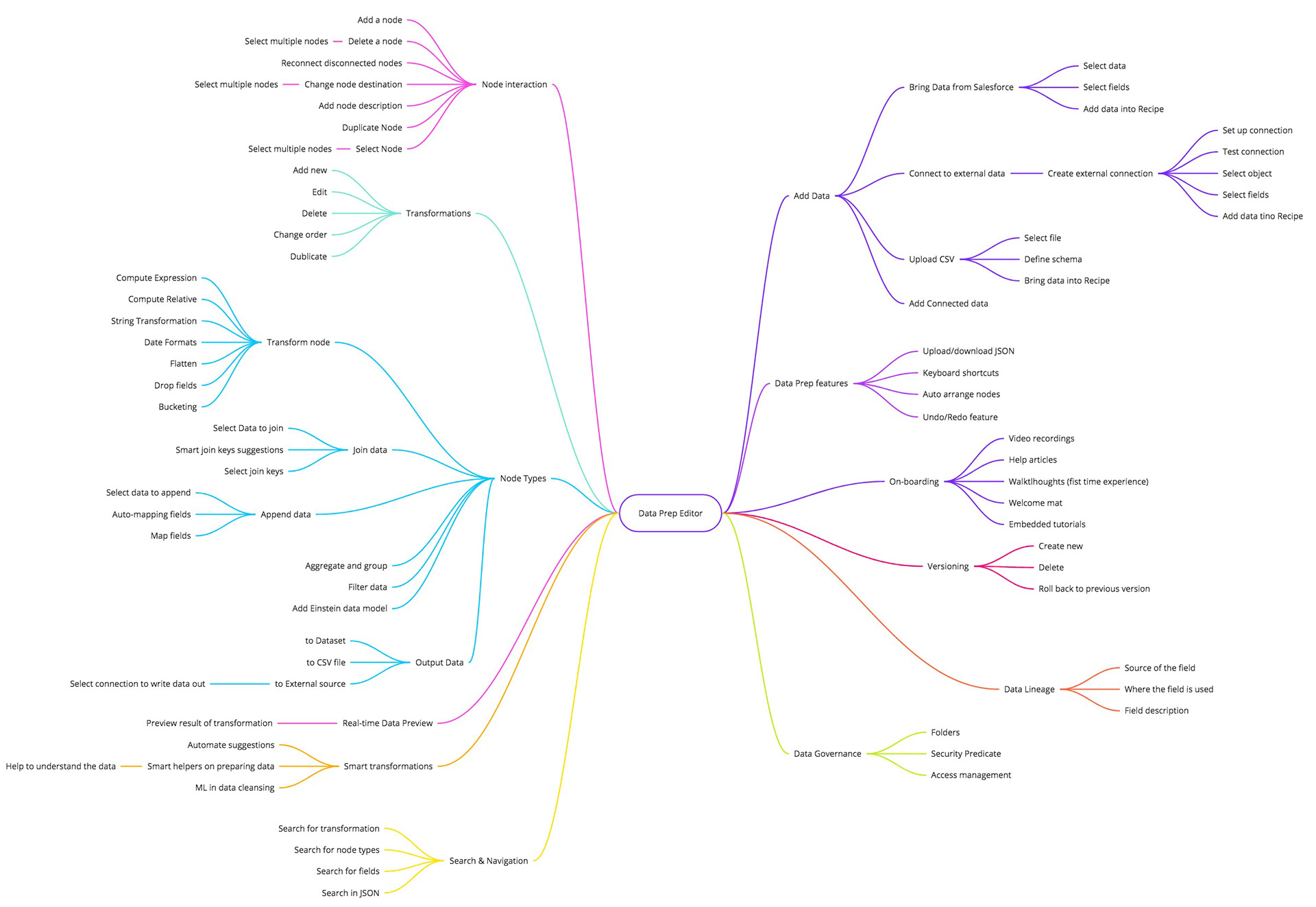 Design System

Now it was time to add fidelity to designs. The visual design was built based on Salesforce Lightning Design System guidelines and design principles to ensure branding and UI consistency at scale. Using the Salesforce designs system presented us with great opportunities as well as significant challenges. The system did not support all the required components, so our team had to build many new components and develop guidelines to support our use-cases.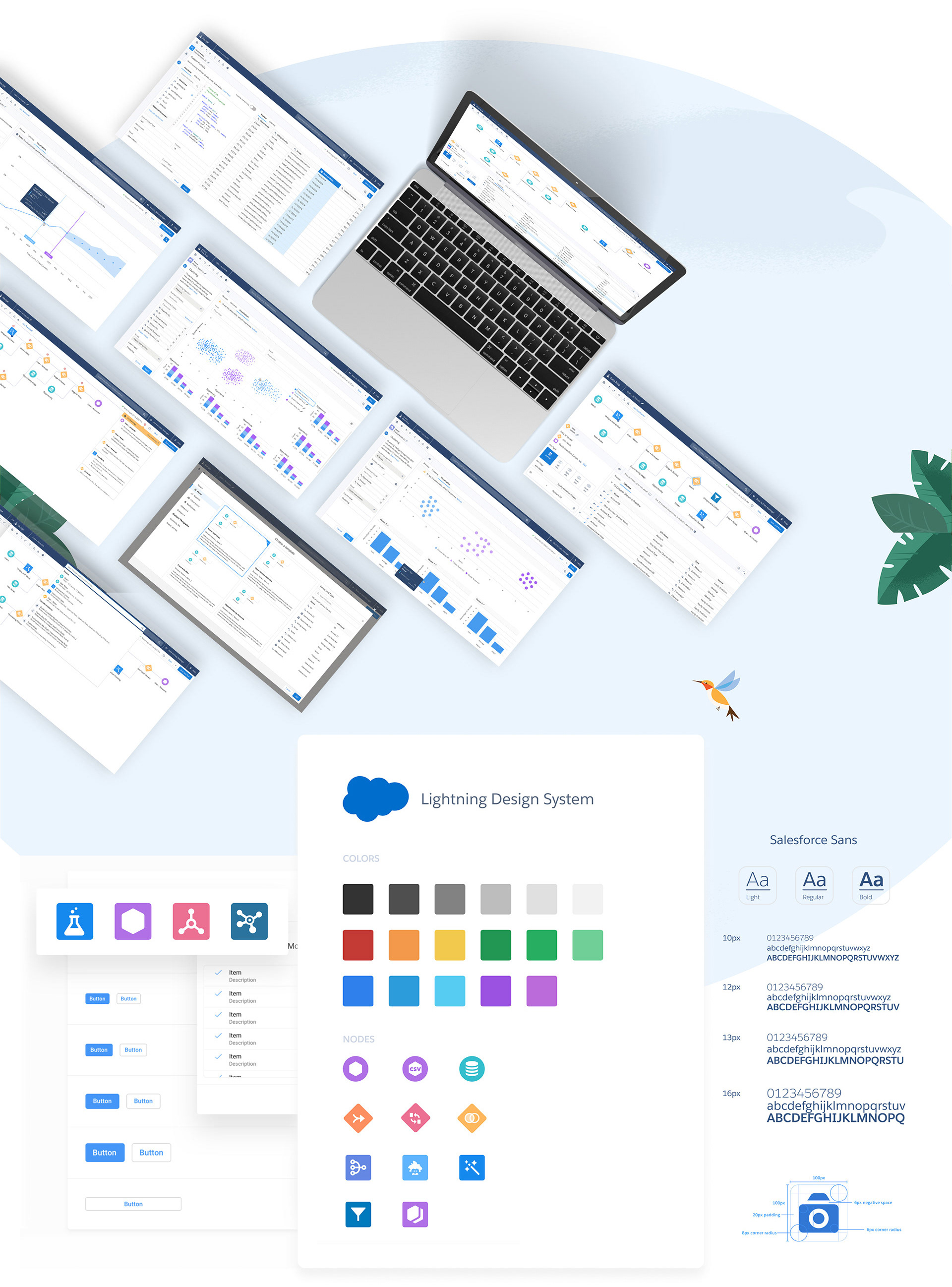 Product Solution:
Live Data Previews
One of the challenges was designing the tool's layout and graph interactions. Establishing logic interaction with the graph, nodes, and preview required several additional usability studies for validation. 
Some of canvas rules and logic: 
• Nodes can not be placed on top of each other; 
• The canvas has an infinite grid, and data flows only from left to right, from top to bottom; 
• Node types defer by different shapes and colors; 
• Multi-selecting nodes for bulk interactions;
• Accessibility and keyboard navigation.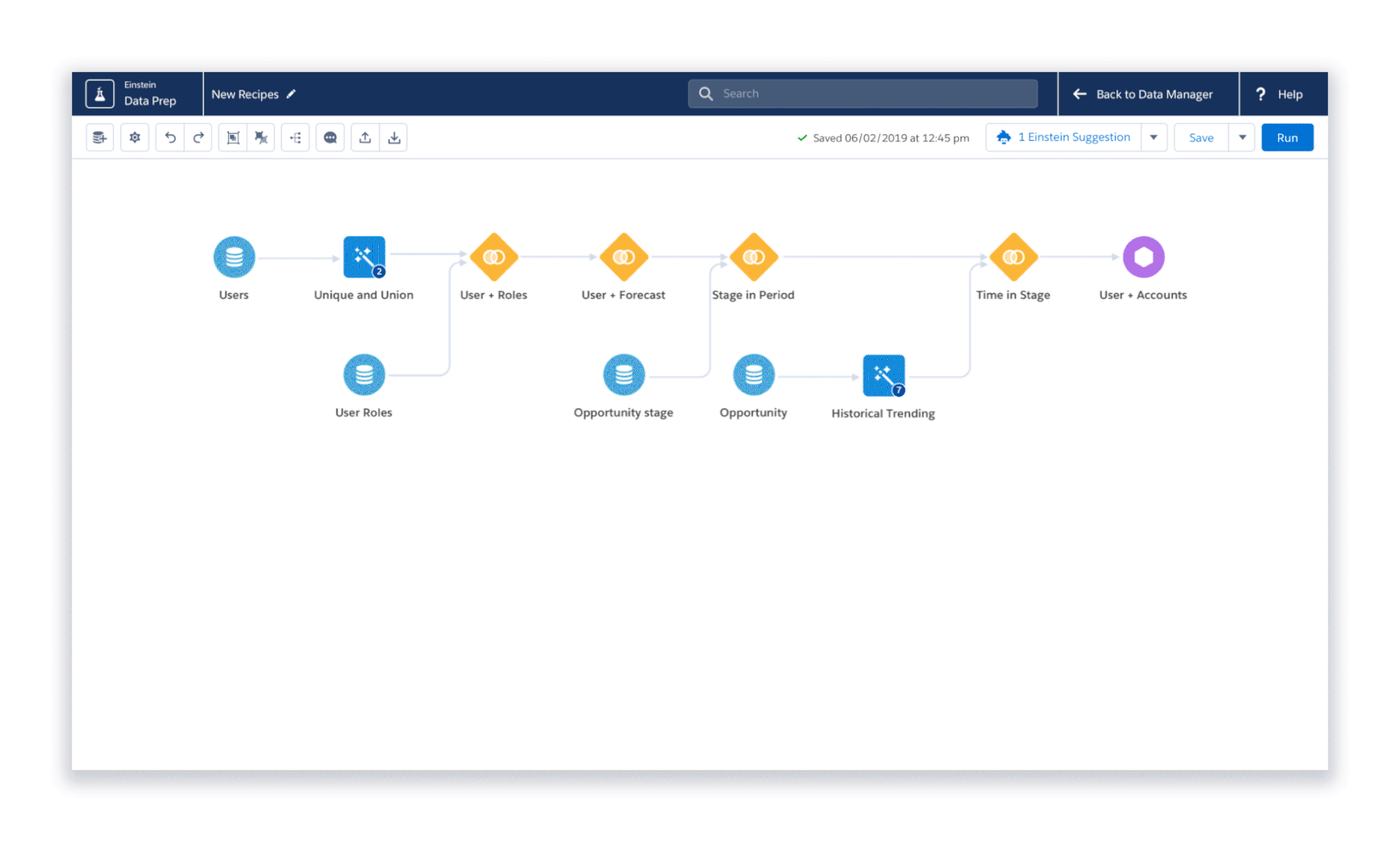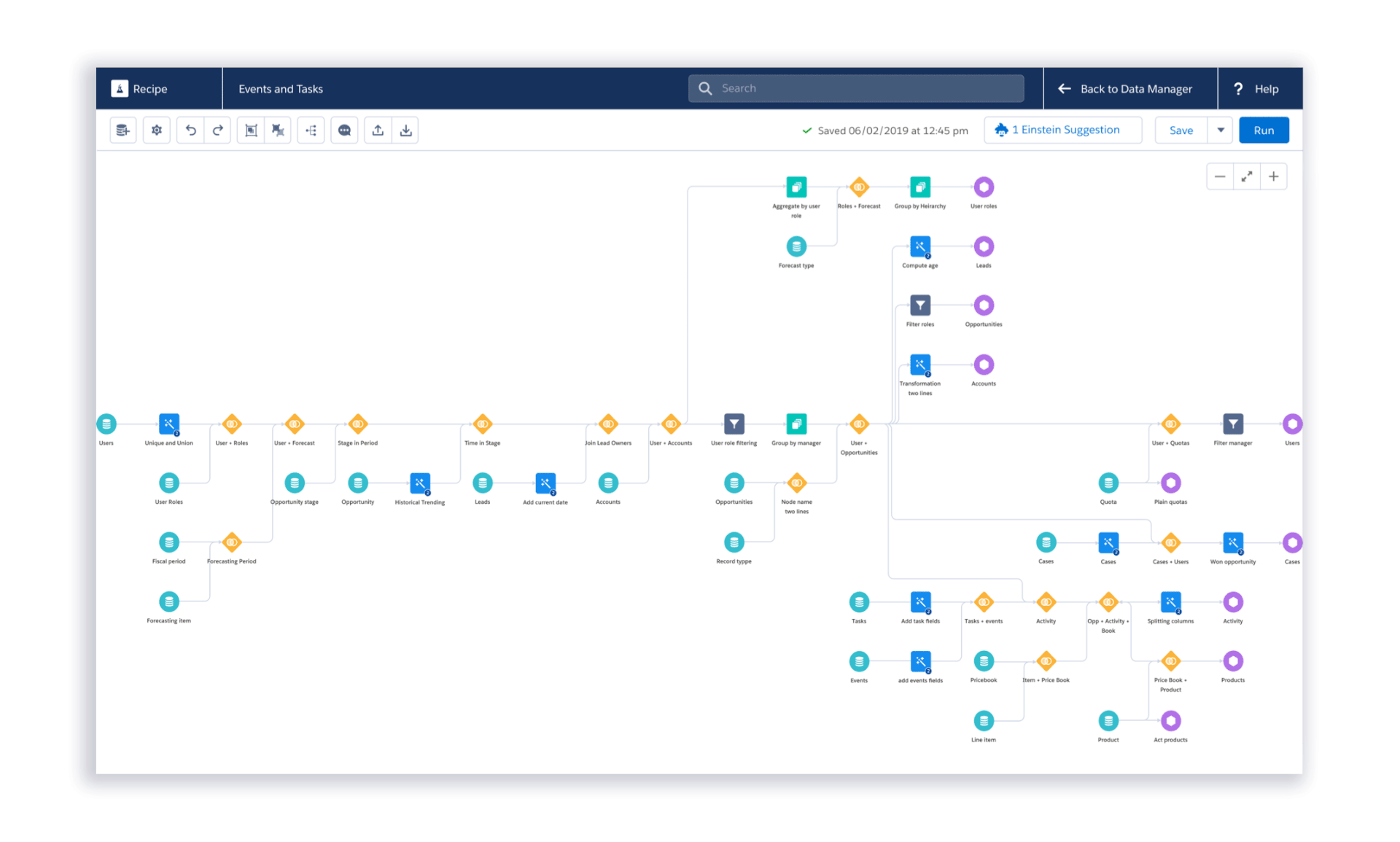 Product Solution:
Solving for complex flows
We've discovered that some of our customers have a data flow with a
thousand node
count
. And this was kind of a challenge to solve.
How might we design a scalable and performant tool even on thousands of nodes and rows of data?
  
• We've consolidated linear, simple transformations into a single node;
• Improved search capabilities;
• Differentiated nodes by colors and shape;
• Improved nodes naming and added annotation capabilities;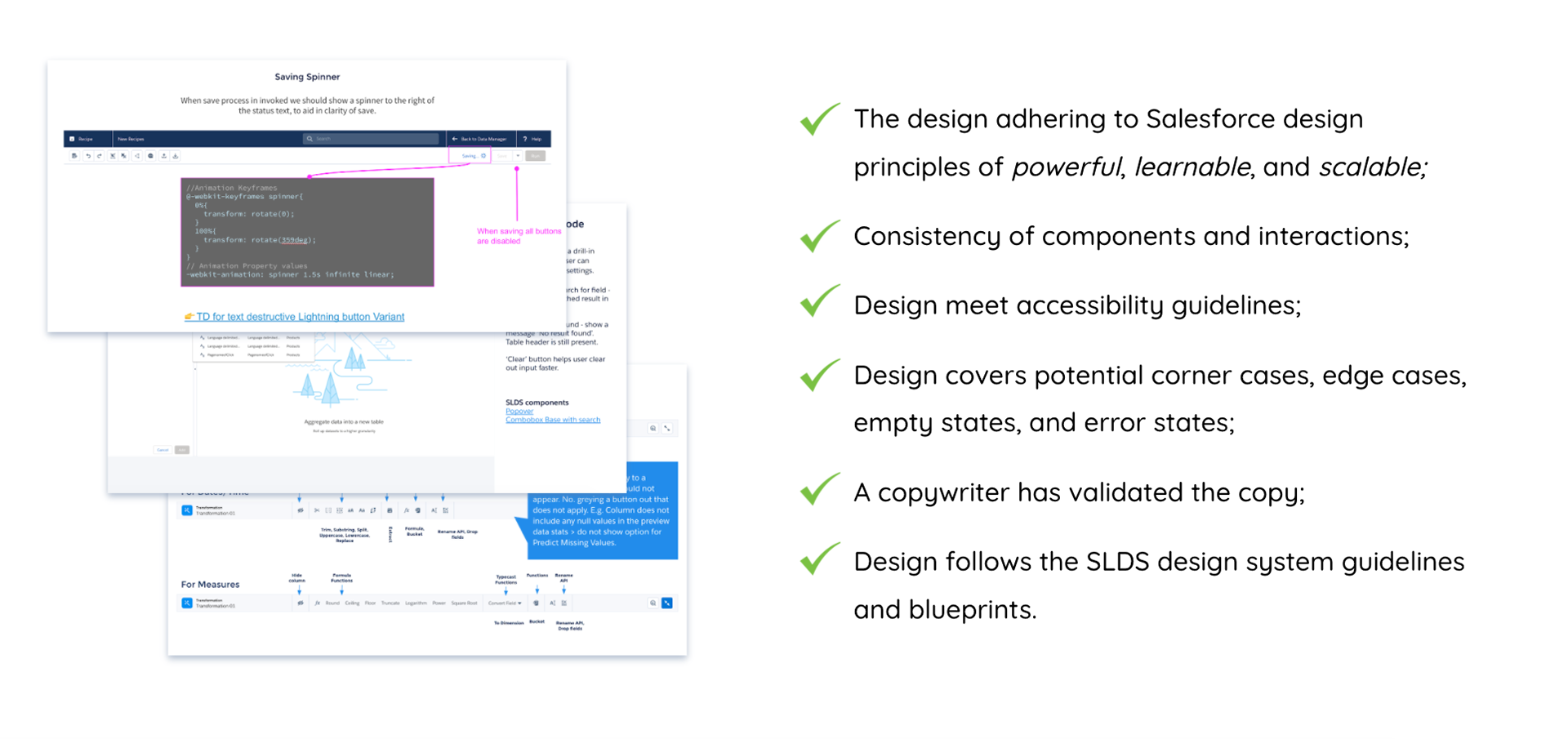 Challenges and Key Takeaways
Cross-Team Collaboration.
As a design leader, I closely worked with engineers, product managers, tech writers, and other stakeholders to ensure everyone has a cohesive product vision and aligned on the experience we were building for customers. Close collaboration with stakeholders allowed me to demonstrate a deep sense of accountability and trust, fostering a high degree of confidence in my decisions and suggestions within teams.
Multitasking and Delivery Circle.
Working in continuous delivery environments where the pace is fast and focused on execution was a critical skill I developed. I efficiently handled frequently changing requirements, leading design initiatives of the next generation of tools while supporting multiple ongoing product initiatives at once, and contributed to the Design team's outputs.
Time Management and Communication.
I've learned how to successfully balance project deadlines bandwidth between multiple scrum teams and stakeholders. The key is in communication and openness to give and receive feedback. Communicating ideas and goals to smaller and larger groups was one of the challenges we successfully overcame. Proactively set expectations and bring everyone on the same page was crucial for a project of such a scale and with so many moving parts.
Problem-solving.
Finding creative solutions to complex non-trivial problems, balancing technical constraints, business needs, and user expectations. 
Not fully robust Lightning Design system